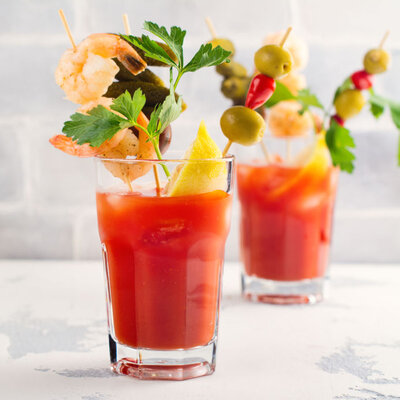 Bloody Mary
---
What is a Bloody Mary?
The Bloody Mary is a cocktail made with a base of vodka accompanied by tomato juice and Worcestershire sauce. Other ingredients that may be used in the cocktail are spices, lemon juice, lime juice, celery salt, garlic, herbs, olives, horseradish, and black pepper. The classic version of the drink is often garnished with a celery stick.
Bloody Mary has a signature tangy and spicy flavor, which is refreshing to consume on its own.

This cocktail is considered a good option for a leisurely brunch.
Some popular variations of this cocktail include:
Virgin Mary (non-alcoholic)

Red Snapper

Bloody Maria

Bloody Caesar

Michelada

Green Mary

Bloodless Mary

Bacon Bloody Mary

Shrimp Cocktail Mary

Absurdly Garnished Mary

Bloody Bull

Bloody Eight

Bloody Mary Oyster Shooter
Origin of bloody mary
The invention of this cocktail is credited to Fernand Petiot, a French bartender working at Harry's New York Bar in Paris in the 1920s. He brought the cocktail recipe with him to the US post-prohibition, where it gained real popularity. The name of the cocktail refers to Queen Mary I of England, who earned the nickname herself for executing Protestants during her reign. The Bloody Mary has the honor of being the most popular cocktail to be consumed during flights to this day.
Nutrition
A glass of this cocktail  contains around 165 calories. It is a good source of sodium, potassium, iron, calcium, as well as vitamins A & C. The main ingredients in the cocktail are vodka, tomato juice, and Worcestershire sauce. However, drinking vodka on a regular basis can lead to several health problems. Overconsumption of alcohol can cause several health problems, including affecting the brain's functioning patterns and general lowering of immunity. Liver cirrhosis, pancreatitis, high blood pressure, stroke, and different types of cancers may also be caused by excess consumption of vodka.
Tomato juice contains lycopene, which helps in reducing cardiovascular diseases, osteoporosis, and mental disorders through its anti-oxidative effects. Also, lycopene has shown some alleviation of menopause symptoms. Furthermore, tomato juice is rich in vitamins A, C, E, and K, as well as several B vitamins. In addition, tomato juice also contains magnesium, potassium, copper, and manganese. All these vitamins and minerals increase vision health, regulates metabolism, and reduces the risk of certain cancers. 
Worcestershire sauce contains vitamins B6 & C, thiamine, and niacin, all of which help in boosting the immune system and improving bone and muscle health. Additionally, Worcestershire sauce contains piperine, a bioavailability enhancer, which promotes the availability of biological activity or the functioning of medicine. Nonetheless, overconsumption of Worcestershire sauce can lead to kidney damage. The sauce is not gluten-free and must not be consumed by people with celiac disease. People suffering from high blood pressure also find it beneficial to moderate their consumption of the sauce.
Commercial production
To prepare a Bloody Mary, vodka and tomato juice are required in 1:2 ratio. First, these two ingredients are mixed and added into a pint glass. Then, other ingredients such as Worcestershire sauce, lemon juice, horseradish, salt, pepper, celery salt, or any other herbs and spices are then added. Finally, comes the ice, then the drink is stirred and garnished with a lemon wedge or celery stalk. 
Bloody mary recipes
This is a refreshing cocktail that is best suited for daytime consumption. It may be used to spice up other dishes as well. Here are a few recipes:
FDA regulations
All alcohol products, except artisanal products, fall under the purview of the TTB (Alcohol and Tobacco Tax and Trade Bureau) in the US. Vodka is defined as a neutral spirit distilled with charcoal and without any distinctive character, aroma, taste, or color. The TTB strictly regulates the production and import of alcohol, which must have 95 percent ABV and bottled at no less than 40 percent ABV.
The FDA classifies tomato juice as a vegetable juice that is obtained from the unfermented liquid extracted from red tomatoes.
The USDA regulates the content and packaging of Worcestershire sauce in the US. For Worcestershire sauce to be termed as such, it must contain water, vinegar, salt, sweeteners, tamarind, and molasses. Also, it may contain spices, vegetables, anchovies, and other ingredients. The FDA regulates the labeling of Worcestershire sauce and details the permitted references amounts and label statements for this product.
References
Pawlega, J. "Breast cancer and smoking, vodka drinking and dietary habits. A case-control study." Acta oncologica (Stockholm, Sweden) vol. 31,4 (1992): 387-92. doi:10.3109/02841869209088276, https://pubmed.ncbi.nlm.nih.gov/1632971/
Hirose, Asuka et al. "Tomato juice intake increases resting energy expenditure and improves hypertriglyceridemia in middle-aged women: an open-label, single-arm study." Nutrition journal vol. 14 34. 8 Apr. 2015, doi:10.1186/s12937-015-0021-4, https://www.ncbi.nlm.nih.gov/pmc/articles/PMC4406031/ 
"Worcestershire sauce and the kidneys." British medical journal vol. 3,5765 (1971): 6., https://www.ncbi.nlm.nih.gov/pmc/articles/PMC1800089/?page=1 
Wayne Curtis, Behind the Drink: The Bloody Mary, Liquor.com, https://www.liquor.com/articles/behind-the-drink-the-bloody-mary/