Calvados
---
What is Calvados?
Calvados is a type of brandy produced in the Normandy region of France. While it is usually made from apples, some varieties of this brandy also contain pears. It has a golden color and a distinctive flavor and aroma of apples.
This beverage has an alcohol content of approximately 40 percent ABV and is often consumed alone or in a variety of cocktails.

Apple brandy is produced in other countries as well but to be considered Calvados, they must be produced with apples grown in Calvados, Normandy.
Some of the most popular Calvados brands are:
Dupont VSOP

Michel Huard 2004

Christian Drouin Selection

Morin 10 Year Old

Camut 12 Year Old

Pierre Huet Cordon Argent 20 Year Old

Pere Magloire XO Pays D'Auge

Avallen

Didier Lemorton 10 Year Old Domfrontais

Michel Huard Hors d'Age
Origin of calvados
The climate of Normandy is highly conducive for the production of apples, which have been grown there since the 8th century. Not long after, apple-based dishes and drinks became popular. The earliest record of cider was from a 1553 manuscript of Gilles de Gouberville. He is credited with the invention of Calvados, though it is likely that the technique was in use before him. Louis XIV prohibited this brandy from being exported out of Normandy in order to give a boost to cognac, in order to please one of his ministers, Jean-Baptiste Colbert, who came from the Cognac region. Due to Prohibition in the US, cocktails became more popular and so did this liquor.
Nutrition
Nutritional profile for Calvados (1 glass):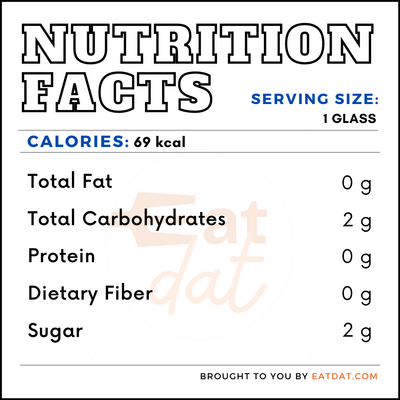 Studies have shown that brandy may help treat asthma, heart disease, diabetes, and bone health. Nonetheless, overconsumption of alcohol can lead to several health problems, including affecting the brain's functioning patterns and general lowering of immunity. Regular consumption of alcohol can increase the risk of heart disease, liver cirrhosis, pancreatitis, high blood pressure, stroke, diabetes, cancer, as well as obesity, depression, and aging. It is best to consume this alcoholic beverage responsibly and in moderation.
Commercial production
Calvados is produced from apples that are native to the Normandy region. A mixture of different varieties of apples may be used to bring out a balance of flavors: bitter, tart, bittersharp, and sweet. First, the apples are fermented and made into an apple cider. Then, the cider is distilled in copper stills and aged in oak barrels for at least two years. This brandy has an indefinite shelf life, provided it is stored in a cool and dry place away from direct sunlight.
There are around 400 producers of this brandy in Normandy, and it also has an appellation d'origine contrôlée (AOC). The other appellation designations are AOC Calvados Pays d'Auge and AOC Calvados Domfrontais, which cover a smaller area within the region.
Calvados recipes
This drink is usually served as a digestif or aperitif. It is best served in a tulip glass or small wine glass, which will trap in all the aromas. Here are some popular recipes to try:
FDA regulations
The TTB classifies Calvados as an apple brandy distilled in the Calvados region of France in compliance with the laws and regulations of the French Government.
References
A Unique History, Calvados France, https://drinkcalvados.com/en/discover/history/
Murray, Tom. "Calvados Is Made from Apples, Not Grapes – Here Are All the Ways It's Different from Cognac." Business Insider, Business Insider, 21 Nov. 2018, www.businessinsider.in/personal-finance/calvados-is-made-from-apples-not-grapes-here-are-all-the-ways-its-different-from-cognac/articleshow/66738744.cms. 
National Institute of Alcohol Abuse and Alcoholism, Alcohol's Effects on the Body, https://www.niaaa.nih.gov/alcohols-effects-health/alcohols-effects-body