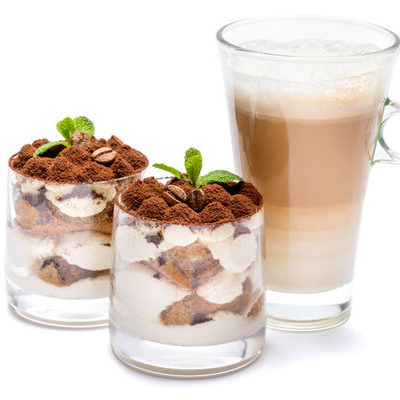 Irish Cream
---
What is Irish Cream?
Irish cream is a cream liqueur made from Irish whiskey, cream, chocolate, sugar, and flavorings. It is most often served as a shot or in cocktails and is also a vital component of Irish coffee. This cream liqueur is pale beige in color and contains around 15 to 20 percent ABV. It is a typical Irish product and is used in many desserts.
Baileys invented Irish cream in the 1970s but is no longer the sole producer of the product.

This cream drink comes in a number of flavors such as coffee, chocolate cherry, vanilla cinnamon, and salted caramel.
The most popular manufacturers of this cream liqueur are:
Baileys 

Saint Brendan's

Five Farms

Carolans

Emmets

The Whistler

Ryan's

Michael's

Kerrygold
Origin
The first Irish cream on the market was Baileys, believed to be invented by Tom Jago and James Espey, founders of Last Drop Distillers.  Their team was asked to invent something new that could possibly be exported to make money. They decided to use cream, which was a waste product of a dairy plant that was a sister company. The name was taken from a bistro located near their office. In their first tests, it was universally hated. However, in 1973, a bunch of policemen finished the entire bottle and production took off from there. 
Nutrition
One serving (100mL) of Irish cream contains: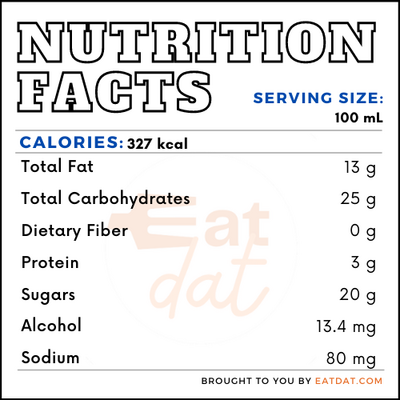 The whiskey in it contains antioxidants, which help in preventing heart diseases. The drink also controls urate levels by promoting excretion of urate through urine. This can prevent gout and other uric acid diseases. The cream provides calcium, phosphorus, healthy fats, folate, iron, as well as vitamins A and C.
Whiskey also contains ellagic acid, which can help in preventing cancer. However, like any other alcohol, overconsumption can lead to a host of health problems. These include liver cirrhosis, pancreatitis, high blood pressure, stroke, and different types of cancers.
Commercial production
Real fresh cream is used in the making of cream liqueur, and most companies ensure that milk from Irish cows are used for this purpose. This cream is combined with aged Irish whiskey, vanilla pods, and cocoa beans, and mixed until smooth. The mixture is then homogenized. No artificial preservatives are added to the mixture. 
This liqueur can last for two years from the date of production, regardless of whether the bottle is opened or not. However, to achieve this, the liqueur must be stored in the fridge or in a cool and dark place away from direct sunlight. 
Recipes
This cream liqueur can craft both desserts and cocktails. Here are a few popular recipes:
FDA regulations
This drink may not be produced or regulated in the United States. It may only be produced in the Republic of Ireland and in Northern Ireland in the UK. The Food Industry Development Division of Ireland provides that this cream liqueur must contain at least 10% milk fat from Irish cows, must have at least 15% ABV, and must contain Irish whiskey.
References
Food Industry Development Division Department of Agriculture, Food and the Marine,
Technical File Setting Out the Specifications with which Irish Cream Must Comply https://assets.publishing.service.gov.uk/government/uploads/system/uploads/attachment_data/file/900741/pfn-irish-cream-technical-file.pdf 
Nishioka, Kusuki et al. "Influence of moderate drinking on purine and carbohydrate metabolism." Alcoholism, clinical and experimental research vol. 26,8 Suppl (2002): 20S-25S. doi:10.1097/01.ALC.0000026829.60802.67, https://pubmed.ncbi.nlm.nih.gov/12198370/