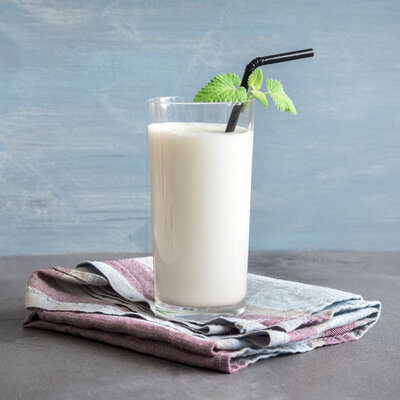 Lassi
---
What is Lassi?
Lassi is a yogurt-based drink that has its origin in India and typically contains yogurt, spices, fruits, and water. This drink generally comes in two flavors—sweet and salty. The sweet variant has sugar and may also contain rose water and saffron.
A salty lassi can include ground and roasted cumin to enhance its flavor.

While it is a drink, lassi is also enjoyed as a dessert and even sometimes as a meal on especially hot days.
The top 10 most common flavors of this drink include:
Mango

Strawberry 

Spiced Kiwi and Mint

Chocolate with Toasted Almond

Caramel Espresso 

Masala

Rose with Chia Seeds

Kesar

Papaya and Honey 

Ginger and pineapple
Origin of lassi
This yogurt drink originated from Punjab, India around 1000 BC and remains popular in both India and Pakistan today. Another name for lassi is stirred dahi. Dahi is a type of unsweetened semi-solid curd and serves as the base for other fermented dairy products. People often include fruits like banana, strawberry, and orange in lassi. This yogurt-based drink is commonly consumed to help relax and cool down in hot weather.
Nutrition
One cup (244g) of this drink contains: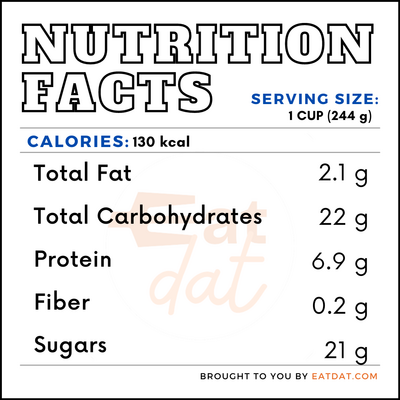 The principal ingredient is yogurt. Some health benefits of this drink include:
It has significant protein content, which helps to improve energy expenditure and body metabolism.

It may help boost your immune system and protect you from illnesses.

This drink supplies calcium and other nutrients that strengthen the bones.

It might be able to improve your heart health and reduce blood pressure.

This beverage is rich in vitamins and trace minerals that can improve several biological processes.
However, this drink has some potential side effects. Since it is yogurt-based, people who are lactose intolerant may not be able to drink it. If you have a milk allergy, this drink might not be suitable for you.
Commercial production
Lassi is commonly produced on a household scale. However, the industrial production of this drink can be summarized in the following steps:
Receiving of milk

Preheating to 95 to 104

°F

and filtration

Standardization

Preheating to 140

°F

 

Homogenization

Heating to 185-194

°F

 for 15-30 minutes

Cooling to inoculation temperature (98.6

°F

)

Addition of inoculum at 1-1.5%.

Packaging

Incubation (98.6

°F

)

Dahi (Acidity: 0.6-0.7% LA)

Cooling and storage
The worldwide market for yogurt was valued at about $40.6 billion in 2019. This value is expected to reach $51.2 billion by 2024. Germany exported the largest dollar value worth of yogurt in 2017. This value was $573.6 million (about 23.6% of the total price of exported yogurt).
Application
It is easy to make a basic form of this drink at home. All you need is yogurt, sugar, ice cubes, and water. Follow the steps below:
First, place the ice cubes in a blender and grind them.

Then, add the sugar, water, and yogurt to the ice cubes.

Next, blend the mixture for about one minute.

Finally, chill the lassi in the refrigerator.
This drink can only last for one to two days at room temperature. However, refrigeration can increase this storage time significantly.
Lassi recipes
This yogurt drink can be adjusted to suit a variety of palates. Here are some popular recipes:
FDA regulation
The Food and Drug Administration does not mention lassi in any of its regulations. However, the organization has a standard of identities for yogurt, low-fat yogurt, and nonfat yogurt. Yogurt is food produced by culturing one or more of the dairy ingredients specified by the FDA with a characterizing bacterial culture that contains two lactic acid-producing bacteria. The organization is in charge of producing, processing, and labeling these three forms of yogurt.
References
"About Lassi." Ifood.tv, Ifood.tv, ifood.tv/indian/lassi/about. 
"How to Make the Perfect Mango Lassi." NDTV Food, NDTV Food, 18 June 2020, food.ndtv.com/food-drinks/how-to-make-the-perfect-mango-lassi-764963. 
Elliott, Brianna. "7 Impressive Health Benefits of Yogurt." www.healthline.com, Healthline Media, 20 Jan. 2017, https://www.healthline.com/nutrition/7-benefits-of-yogurt
"CFR – Code of Federal Regulations, Title 21." accessdata.fda.gov, US Food & Drug Administration, 1 Apr. 2019, www.accessdata.fda.gov/scripts/cdrh/cfdocs/cfcfr/CFRSearch.cfm?fr=131.200.