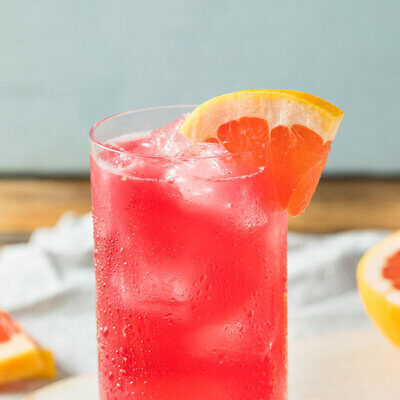 Sea Breeze
---
What is a Sea Breeze?
Sea Breeze is a classic summer cocktail of American origin made with a base of vodka and containing cranberry juice and grapefruit juice. It is deep red in color and has a fruity taste.
This cocktail was very popular in the 1980s and is included on the International Bartender Association (IBA) list.

Some cocktails that are similar to the Sea Breeze include the Cape Codder, Salty Dog, Madras, Bay Breeze, Ocean Breeze, and Winter Sea Breeze.
Some of the most popular vodka-based cocktails include:
Appletini

Bloody Mary

Moscow Mule

Screwdriver

Cosmopolitan

Caipirovska

White Russian

Lemon Drop

Sea Breeze

Woo Woo
Origin
Sea Breeze was first created in the 1920s during the Prohibition era, which saw a boom in cocktail drinking in order to mask the low-quality bootleg liquor. The original drink contained gin and grenadine, because gin was one of the more easily available liquors during this time. Over time, apricot brandy and lemon juice were added. The recipe was changed once more in the 1960s when a cranberry growers' collective called Ocean Spray pushed for a cranberry-based cocktail. The drink had its heyday in the 1980s. 
Nutrition
Nutritional profile for Sea Breeze (1 glass):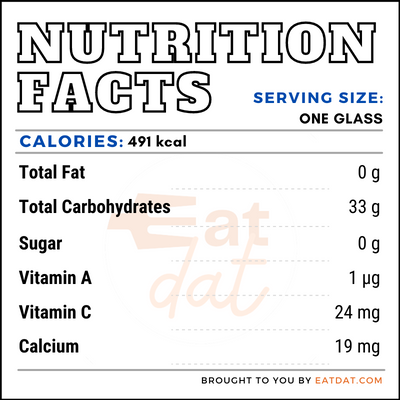 Sea Breeze is rich in calcium, magnesium, folate, vitamin C, and phosphorous. The cranberry juice in the cocktail offers a number of health benefits and has the ability to lower cholesterol, reduce the risk of cardiovascular diseases, atherosclerosis, and diabetes, reduce oxidative stress, improve platelet function, and prevent endothelial dysfunction.
Grapefruit juice is low in calories and also has a low glycemic index, which makes it suitable for diabetes patients. This juice also contains naringin, a flavonoid which improves glucose tolerance in people with diabetes. Regular consumption is helpful in maintaining heart and skin health, as well as preventing strokes and some types of cancers. 
However, mixing grapefruit juice with certain drugs should be avoided since this juice inhibits a chemical in the intestine needed to break down many pharmaceutical drugs in the body. These include medications for regulating blood pressure, suppressing the immune system, sedatives, and AIDS medicines. Steroids and asthma medicines may also be harmful, if taken with grapefruit juice.
Like any other alcoholic drink, overconsumption of Sea Breeze can result in a change in the brain's functioning patterns, liver cirrhosis, pancreatitis, heart problems, strokes, different types of cancers, as well as affect overall immunity.
Commercial production
To prepare a Sea Breeze, the main ingredients required are vodka, cranberry juice, and grapefruit juice. First, the glass is filled with ice cubes. Then, the three ingredients are poured in equal quantities in a cocktail shaker, shaken well, and poured on top of the ice. A slice of lemon serves as a garnish. This cocktail may be served in a tall high ball glass or short old-fashioned glass.
Sea breeze recipes
This is a versatile cocktail that may be altered to suit different tastes. Here are a few recipes:
FDA regulations
Vodka is defined by the TTB as a neutral spirit distilled with charcoal and without any distinctive character, aroma, taste, or color. The TTB strictly regulates the production and import of alcohol, which must have 95 percent ABV and bottled at no less than 40 percent ABV. 
According to the FDA, cranberry juice must have at least 7.5 percent concentration. The USDA requires that all cranberry juice cocktails must be tested on single-strength cranberry juice cocktail. The FDA defines grapefruit juice as the unfermented juice obtained from ripe grapefruits and intended for direct consumption. The juice must not contain seeds, peel, or excessive pulp. Grapefruit juice must have at least 10 percent concentration. 
References
Blumberg, Jeffrey B et al. "Cranberries and their bioactive constituents in human health." Advances in nutrition (Bethesda, Md.) vol. 4,6 618-32. 6 Nov. 2013, doi:10.3945/an.113.004473, https://www.ncbi.nlm.nih.gov/pmc/articles/PMC3823508/ 
Pawlega, J. "Breast cancer and smoking, vodka drinking and dietary habits. A case-control study." Acta oncologica (Stockholm, Sweden) vol. 31,4 (1992): 387-92. doi:10.3109/02841869209088276, https://pubmed.ncbi.nlm.nih.gov/1632971/