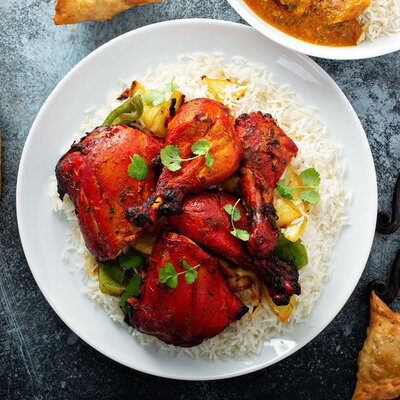 Tandoori
also known as Tandoori Masala
---
What is Tandoori?
Tandoori is a blend of spices used in Indian cuisine. This blend is made from a combination of spices like turmeric, cayenne pepper, ginger, and other ingredients. It provides a red color and aromatic quality when used in food.
This spice blend is often used to marinade meat, which is subsequently cooked in a tandoor oven.

It is famously used in making tandoori

chicken

.
Some common ways to use this spice blend in the kitchen include:
Paneer

Roasted chickpeas

Chicken wings

Rack of lamb

Salmon

Shrimp

Prawns

Kebabs
Origin of tandoori
The story of the tandoor, the cylindrical clay oven, is vital to understanding the history of this spice mix. This oven dates back 5,000 years ago, when it was used in ancient India. Guru Nanak Dev, the founder of the Sikh religion, encouraged the use of the tandoor to connect people and build communities. However, this oven was not limited to India, because it was found in ancient Egypt, as well. 
The tandoor traveled to Delhi in 1947 through Punjabi refugees. Not only did they bring the oven, but also their cooking techniques and spices. This was how the spice blend made its way into Indian kitchens. The well-documented history of tandoori illustrates that the mixture has been around since 1922. The spice finally reached the US in 1964, and became widespread with the growing popularity of Indian food. 
Function
This spice mix is commonly applied as a paste or marinade for meat and seafood. Tandoori paste uses yogurt as a base, which adds flavor and texture while also improving spreadability. This spice mix also adds to the look of food, adding an appetizing red hue. 
Nutrition
A 100g serving of this spice blend contains: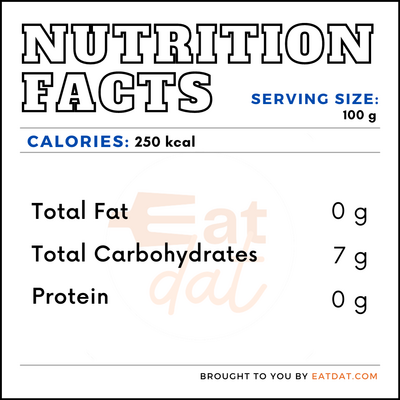 The health benefits of this blend come from its spices. Turmeric offers antioxidants, as well as mood-boosting, anti-inflammatory, and anti-ageing effects. Cayenne pepper can help increase metabolism, improve digestion, fight cravings, and even lower blood pressure. Ginger may aid nausea, encourage weight loss, prevent heart disease, and lower cholesterol. While there are no known side effects of this spice blend, individuals with a low heat tolerance should consume with caution.
Commercial production
The first stage in commercially producing this mix is picking out the spices. Then, the ingredients are processed and oxidized to remove the moisture content. After that, the ingredients are blended and mixed. Finally, the blend is packaged in airtight containers before selling.
Application
To make this spice blend at home, simply combine all the spices. Some ingredients such as cumin, coriander, and cloves need to be toasted in a pan to release their aromas. Then, grind everything together into a fine powder. Add lime juice and yogurt when you are ready to use the mix. This spice blend can be stored in an airtight container for about six months. 
Tandoori recipes
This spice mix is well-suited to many dishes. Here are some popular recipes:
FDA Regulation
The Food & Drug Administration regulates the manufacture of spices and flavors, including this mix. The FDA requires that manufacturers register their products and provide all required information to them. They also stipulate that spices that add color to meals are required to be labeled as spice and coloring. Since this mix adds a red color to foods, it falls under this regulation.
References
"Tandoori Masala: A Spice Blend From Northern India." SPICEography, 17 Nov. 2017, www.spiceography.com/tandoori-masala/. 
Riches, Derrick. "All About Tandoori: Traditional Indian Open Fire Cooking." The Spruce Eats, www.thespruceeats.com/tandoori-cooking-335794. 
Affairs, Office of Regulatory. "CPG Sec 525.750 Spices – Definitions." US Food and Drug Administration, FDA, www.fda.gov/regulatory-information/search-fda-guidance-documents/cpg-sec-525750-spices-definitions.