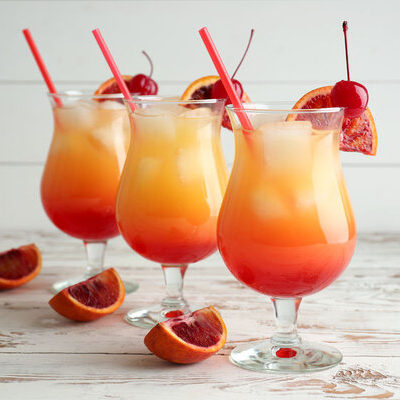 Tequila Sunrise
---
What is Tequila Sunrise?
Tequila Sunrise is a cocktail made of tequila, orange juice, and grenadine. The name of the cocktail refers to its appearance, which is a yellowy orange like a sunrise. The colors appear in gradations because the grenadine sticks to the bottom of the glass. The cocktail has a strong taste of orange but notes of pomegranate and of course, tequila, make themselves felt.
The best garnish for this drink is an orange slice or a cherry.

The drink is often served in tall glasses to emphasize the sunrise effect.
Some of the most popular tequila-based cocktails are:
Margarita

Tequila Sunrise

Paloma

Tequila Collins

Tequini

Brave Bull

Envy Cocktail

Bloody Maria

Passion Cocktail

Sangrita

Dulce de Tequila

Reposado Old-Fashioned

El Diablo

Tamarind and Tequila

Habanero Martini
Origin of tequila sunrise
The cocktail is an American invention. Gene Sulit, a bartender at the Arizona Biltmore Hotel in the 1930s, was asked by a regular guest to surprise him with a cocktail by the pool. The bartender concocted a cocktail with soda, tequila, crème de cassis, and fresh lime juice. This was the inspiration for the actual cocktail with orange juice, which was created by Bobby Lazoff and Billy Rice. Both Lazoff and Rice were bartenders at the Trident Restaurant in the 1970s, where the modern Tequila Sunrise would be born.
Nutrition
A glass of Tequila Sunrise contains around: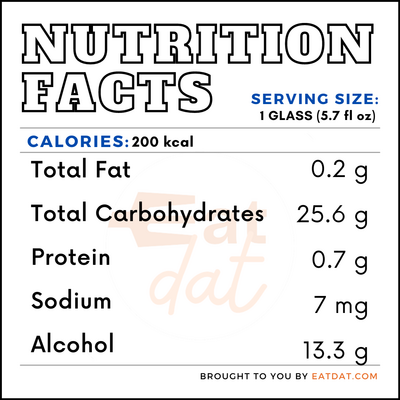 One of its main ingredients, orange juice is high in vitamin C, potassium, folate, magnesium, and iron. Regular intake can help with strengthening the immune system, keeping blood pressure in check, and keeping the bones strong. Fresh orange juice is more nutritious and has more vitamin C than processed orange juice. However, overconsumption of orange juice has its downsides, due to its high sugar content. Although the pomegranates in the grenadine syrup may help in preventing or reducing certain conditions, such as high blood pressure, high cholesterol, oxidative stress, hyperglycemia, and inflammation, the high sugar content may be a concern.
Also, tequila has an ABV of around 35 percent. Overconsumption of the cocktail can lead to several health problems, including affecting the brain's functioning patterns and general lowering of immunity. Furthermore, liver cirrhosis, pancreatitis, high blood pressure, stroke, and different types of cancers may result from excessive drinking. However, there is some evidence to link tequila consumption with increased lifespan, which is credited to the reduced insulin-like signaling.
Commercial production
To make a Tequila Sunrise, only tequila, orange juice, and grenadine syrup are required. First, ice is put in a glass, and then tequila and orange juice are poured in. Next, the syrup is slowly added, which sinks to the bottom, giving the sunrise effect. Finally, the drink is garnished with an orange slice or a cherry.
Tequila sunrise recipes
This cocktail is a refreshing alcoholic drink ideal for drinking by the pool. Also, it is a good option for brunch, evening cocktails, or at barbecues. Here are a few drink recipes, as well as dishes inspired by it:
FDA regulations
The FDA defines orange juice as the food prepared from unfermented juice obtained from mature oranges. Orange juice must have at least 11.8 percent concentration. Grenadine syrup is defined as a syrup or beverage obtained from fruit juices and sugar syrup, in which the characteristic flavor may be obtained from a mixture of blackcurrant juice and other fruit juices.
Tequila falls under the purview of the TTB. The organization defines it as a spirit distilled in Mexico in compliance with the laws and regulations of the Mexican Government from a fermented mash derived principally from the Agave Tequilana Weber and bottled at not less than 40% alcohol by volume.
References
Nicole Digiose, Drink in History: Tequila Sunrise, Chilled Magazine, https://chilledmagazine.com/drink-in-history-tequila-sunrise 
O'Neil, Carol E et al. "100% orange juice consumption is associated with better diet quality, improved nutrient adequacy, decreased risk for obesity, and improved biomarkers of health in adults: National Health and Nutrition Examination Survey, 2003-2006." Nutrition journal vol. 11 107. 12 Dec. 2012, doi:10.1186/1475-2891-11-107, https://www.ncbi.nlm.nih.gov/pmc/articles/PMC3545988/ 
Is it time to rethink how much you drink?, Harvard Health Publishing, Harvard Medical School, https://www.health.harvard.edu/heart-health/is-it-time-to-rethink-how-much-you-drink
Huang, Cheng-Wen et al. "Tequila Regulates Insulin-Like Signaling and Extends Life Span in Drosophila melanogaster." The journals of gerontology. Series A, Biological sciences and medical sciences vol. 70,12 (2015): 1461-9. doi:10.1093/gerona/glv094, https://www.ncbi.nlm.nih.gov/pmc/articles/PMC4675830/