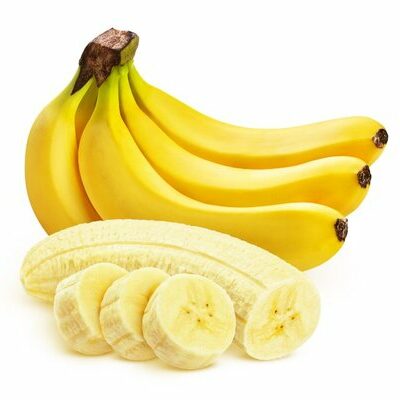 Banana
---
What is a Banana?
Banana is a type of fruit, classified under the berry category botanically. It has an elongated, curved shape with tapering ends and a bright yellow, inedible skin that peels off easily by hand, and the flesh inside is also yellow. Some varieties of this fruit also come in red, green, or orange colors. It is one of the sweetest fruits and is considered a quick energy booster, making it a popular ingredient for smoothies.
This fruit may also be consumed before ripe, like a vegetable, in stir-fries, soups, and fritters.

Additionally, it can be used to make

liqueur

or

plant milk

.
Some of the most popular varieties of this fruit include:
Cavendish

Gros Michel

Lady Finger

Blue Java

Manzano

Red Banana

Goldfinger

Nanjangud

Praying Hands

Orinoco

Fehi

Bluggoe

Macho Plantain

Pisang Raja

Barangan
Origin of banana
Bananas originated in the jungles of the Southeast Asian countries Malaysia, Indonesia, and the Philippines around 8,000 years ago. This fruit is believed to be have been domesticated in the Kuk Valley in Papua New Guinea. From there, it quickly spread to Australia, South Asia, China, and other tropical regions. The name itself is derived from the Arabic word for finger. After that, it spread through early trade to Africa and South America, where the fruit took root between 200 to 500 BC. Today, they are the most popular fruit in the world, only next to tomatoes.
Nutrition
Nutritional profile for banana (1 fruit):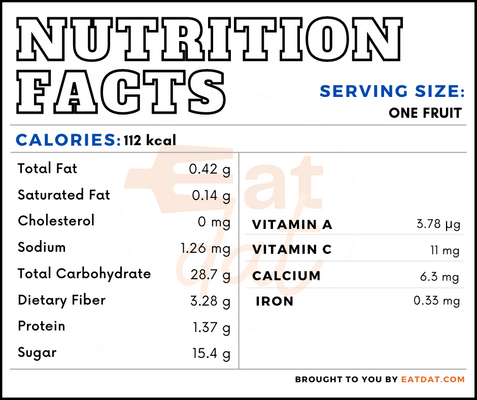 This fruit is a rich source of potassium. Also, it contains calcium, magnesium, phosphorous, vitamin C, folate, choline, carotene, and lutein + zeaxanthin in decent quantities. Additionally, it contains several bioactive compounds such as phenolics, carotenoids, biogenic amines and phytosterols, which protect the body from oxidative stress and help in preventing several diseases. Regular consumption of this fruit may help in curtailing the prevalence of cancers, hypertension, diabetes, and anemia. Moreover, it is helpful in mitigating respiratory disorders and infections. Green (raw) bananas also have similar properties in addition to helping in managing obesity.
Commercial production
India is the largest producer of this fruit, followed by China, Indonesia, Brazil, Ecuador, the Philippines, Guatemala, Angola, Tanzania, Colombia, Costa Rica, Mexico, and Vietnam. The annual production worldwide is estimated at 86 million tons. 
Banana is a tropical fruit and is mainly grown in Asian and South American countries. It grows in all types of soil but thrives in loamy and salty clay loam soil with good drainage, adequate fertility and moisture. The harvesting is usually done manually, by cutting off the bunch from the tree and allowing the latex to flow freely.
Banana recipes
Bananas are versatile and can be used in preparing a large number of both sweet and savory dishes. Also, this fruit is often consumed raw. It is very useful in making cakes, desserts, and puddings, as well as milkshakes. Not to mention, it is even used in preparing cocktails and beer. Here are a few recipes:
FDA regulations
The FDA describes all fresh fruits, including bananas, as raw agricultural commodity and strictly regulates all aspects its growing, harvesting, packing, and storage. 
References
Expert System for Banana, Tamil Nadu Agricultural University & Indian Agricultural Research Institute, http://www.agritech.tnau.ac.in/expert_system/banana/cultivation.html#Z 
Li, Lin-Feng et al. "Origins and domestication of cultivated banana inferred from chloroplast and nuclear genes." PloS one vol. 8,11 e80502. 18 Nov. 2013, doi:10.1371/journal.pone.0080502, https://www.ncbi.nlm.nih.gov/pmc/articles/PMC3832372/ 
Nieman, David C et al. "Bananas as an energy source during exercise: a metabolomics approach." PloS one vol. 7,5 (2012): e37479. doi:10.1371/journal.pone.0037479, https://www.ncbi.nlm.nih.gov/pmc/articles/PMC3355124/ 
Mondal, Arijit et al. "Cancer Preventive and Therapeutic Potential of Banana and Its Bioactive Constituents: A Systematic, Comprehensive, and Mechanistic Review." Frontiers in oncology vol. 11 697143. 7 Jul. 2021, doi:10.3389/fonc.2021.697143, https://www.ncbi.nlm.nih.gov/pmc/articles/PMC8294041/