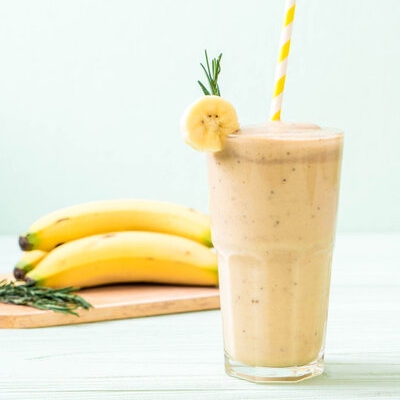 Banana Smoothie
---
What is a Banana Smoothie?
A banana smoothie is a blended drink in which banana is the main ingredient. Fresh or pureed banana is blended with other fruits, vegetables, grains, or herbs, plus yogurt or milk, and optionally a sweetener. Also, other possible ingredients include coffee, chocolate, vanilla, and nuts.
As people become more health conscious, the addition of protein powder has also become common in order to make fruity

protein shakes

.

These

smoothies

are sweet in taste and have a thick texture.
Some of the most popular smoothie flavors are:
Tropical Fruit (pineapples, coconut, etc.)

Mango

Mixed Berry 

Banana

Orange

Cranberries

Matcha

Green Tea

Pomegranate
Origin of banana smoothies
Smoothies were originally called fruit slush in South America. Mediterranean, Asian, and Middle Eastern civilizations also used different fruit and dairy preparations. A blender invented by American Steve Poplawski gave rise to the modern smoothies in the 1930s. These were originally made from fruits and ice. The hippie movement of the 1960s and 1970s brought these dishes to the fore and different types of blended fruits, vegetables, and herbs became popular. Today, smoothies are popular all over the world as a healthy meal alternative or supplement.
Nutrition
The nutritional profile for this smoothie (1 serving) is: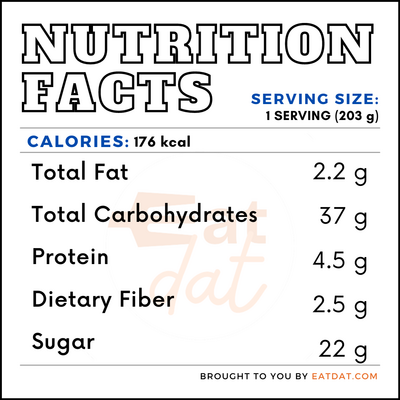 In addition, bananas are rich in potassium, sodium, vitamin A, vitamin C, calcium, and iron. They have a low glycemic index and, hence, are a great post-exercise snack. Additionally, this beverage has a large number of polyphenols, carotenoids, and amino acids. Regular consumption may help in combating vitamin A deficiency.
Commercial production
This smoothie is prepared commercially by blending bananas with yogurt and other fruits or vegetables, for added flavor and nutrition. These smoothies may be produced from premade purees or whole fruits, depending on the manufacturer. The mixing and blending systems must ensure that the various components are blending in well together. Once mixed, the smoothie is bottled, capped, and stored until ready for sale.
Banana smoothie recipes
Bananas can be combined with other fruits and vegetables to make smoothies. Here are a few recipes:
FDA regulations
The FDA describes all fresh fruits, including bananas, as raw agricultural commodities and strictly regulates all aspects of their growing, harvesting, packing, and storage. This fruit also falls under the 20 most frequently consumed fruits. Yogurt is classified as a dairy product and described as the food produced by culturing one or more of the optional dairy ingredients. The specifications for yogurt are provided by the USDA, which also categorizes the product into categories such as full fat, low fat, and non-fat yogurt.
References
Nieman, David C et al. "Bananas as an energy source during exercise: a metabolomics approach." PloS one vol. 7,5 (2012): e37479. doi:10.1371/journal.pone.0037479, https://www.ncbi.nlm.nih.gov/pmc/articles/PMC3355124/ 
Singh, Balwinder & Singh, Jatinder Pal & Kaur, Amritpal & Singh, Narpinder. (2016). Bioactive compounds in banana and their associated health benefits – A review. Food Chemistry. 206. 1-11.10.1016/j.foodchem.2016.03.033. https://www.researchgate.net/publication/299578375_Bioactive_compounds_in_banana_and_their_associated_health_benefits_-_A_review 
Alex Popova, A Short History of the Smoothie, Be Healthy, https://behealthytoday.us/blogs/health/history-of-smoothie