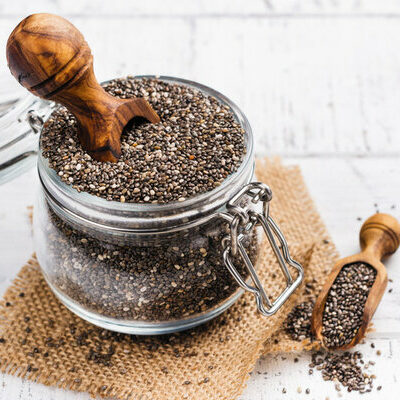 Chia Seeds
---
What are Chia Seeds?
Chia seeds are a species of flowering plant belonging to the mint family. They are edible seeds and can be used for making smoothies, baked goods, cereals, and energy bars, as well as topping for a variety of dishes. Each seed is very small in size and has an oval shape, which bloats up when soaked in liquid, attaining a gel-like texture.
These seeds are grey in color with black and white spots and have a mild taste.

These seeds are a popular ingredient in the health food world due to the health benefits they can offer.
The top 10 most popular chia seed brands include:
Viva Labs

HealthWorks

Nutiva

Navitas Naturals

Bob's Red Mill

Terrasoul Superfoods

Spectrum Essentials

Now Foods

Barleans

Garden of Life
Origin of chia seeds
These seeds have their origin in Central America. They were a staple food of the Maya, Aztecs, and Tarahumaras for more than 3,500 years. Chia seeds were a main food that was carried when traveling long distances. Also, they were extensively used during religious ceremonies.
Nutrition
Nutritional profile for chia seeds (100 g):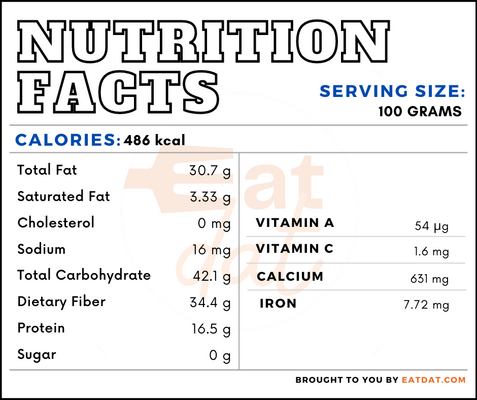 These are rich in calcium, magnesium, phosphorus, and potassium. Additionally, they contain iron, sodium, selenium, niacin, folate, vitamin A, and essential fatty acids in decent amounts. Also, the seeds are an excellent source of polyphenols and antioxidants, including caffeic acid, rosmarinic acid, myricetin, and quercetin. Moreover, chia offers substantial amounts of omega-3 fatty acids, which offer various health benefits.
Regular consumption may help in protecting from inflammation, improving cognitive performance, improving vision, and lowering cholesterol. In addition, they protect against diseases such as cancers and cardiovascular diseases and reduce the risk of diabetes, Alzheimer's, and Parkinson's disease. These seeds can even act as an antidepressant and anti-anxiety food.
Commercial production
The main chia seed producing countries are Argentina, Bolivia, Ecuador, Peru, and Australia. Chia seeds grow best in sandy loamy soils since they come from a desert plant. It can withstand dry weather but requires short days to thrive, and hence, thrives in winter. Additionally, harvesting is done during the winters.
Chia seeds can be stored in an airtight container for several months, especially if kept in a cool, dark, and dry place.
Chia seeds recipes
These seeds are often used in the making of desserts and sweet dishes, and different types of drinks. They also work with savory dishes. Here are a few recipes:
FDA regulations
The FDA does not currently have a standard of identity for chia seeds.
References
Sarah Klemm, What Are Chia Seeds, Eat Right, Academy of Nutrition and Dietetics, https://www.eatright.org/food/vitamins-and-supplements/nutrient-rich-foods/what-are-chia-seeds 
Knez Hrnčič, Maša et al. "Chia Seeds (Salvia hispanica L.): An Overview-Phytochemical Profile, Isolation Methods, and Application." Molecules (Basel, Switzerland) vol. 25,1 11. 18 Dec. 2019, doi:10.3390/molecules25010011, https://www.ncbi.nlm.nih.gov/pmc/articles/PMC6994964/ 
Ullah, Rahman et al. "Nutritional and therapeutic perspectives of Chia (Salvia hispanica L.): a review." Journal of food science and technology vol. 53,4 (2016): 1750-8. doi:10.1007/s13197-015-1967-0, https://www.ncbi.nlm.nih.gov/pmc/articles/PMC4926888/