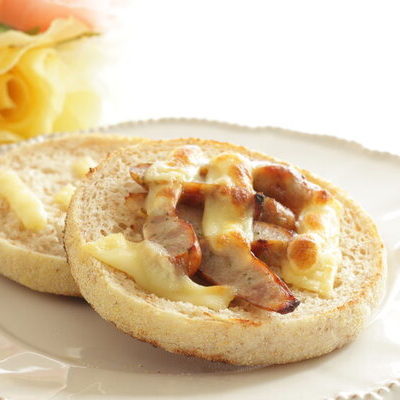 English Muffins
---
What are English Muffins?
English muffins are a bread product made from yeast-leavened dough. These muffins are small, round, flat, and are considered a variation of crumpets but are toasted on both sides. Contrary to popular belief, English muffins are not baked but are actually toasted on a griddle.
It is common to slice English muffins in half, toast and butter them, and eat them for breakfast in the US and Australia.

This bread product can be eaten with sweet or savory toppings.
The top 10 most popular English muffin brands on the market are:
Thomas'

L'oven Fresh

Oroweat

Bays

Healthy Life

Food for Life

Great Value

Oakrun Farm Bakery

Master

Glutino
Origin of English muffins
The name "muffin" originates from the German word "muffen" which means little cakes. Muffins first appeared in print in 1747 in the cookbook The Art of Cookery Made Plain and Easy. These muffins most closely resemble crumpets, although they are not as puffy as their British predecessors. In 1874, a British immigrant named Samuel Bath Thomas invented what he called the "toaster crumpets" in his New York City bakery. These early English muffins were thinner than crumpets, pre-cut, and had a rougher surface that made them crunchy when toasted.
By 1880, Thomas's toaster crumpets had become so popular he had to open a second bakery to keep up with the demand. Later on, in 1894, the term English Muffin was created to refer to these toasty creations and quickly became adopted everywhere. The famous slogan for this bread product, known as "nooks and crannies", would later be invented by the brand Thomas' in the late 1970s. By the 1990s, these muffins had become so well-known that they were eventually exported to the United Kingdom.
Function
Although this type of bread is commonly enjoyed at breakfast time, with enough imagination it can be transformed into a variety of dishes. The muffins can serve as buns for a hamburger or a base for grilled cheese sandwiches or pizzas. It is also possible to slice up this bread and toast it to serve it as croutons in a salad. Additionally, it can be used in sweet dishes like bread pudding. 
Nutrition
These muffins are cholesterol-free and low-fat which make them a good choice for health-conscious people. A single muffin contains: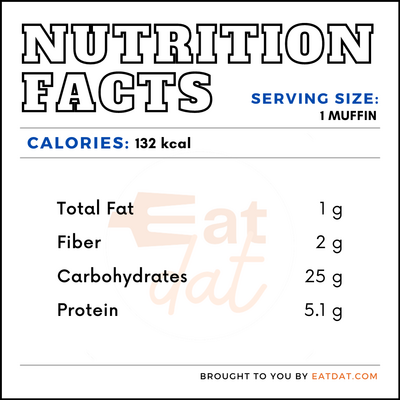 For an even healthier option, it's also good to consider whole grain varieties of this bread. Anyone looking for healthy toppings will appreciate protein-rich toppings such as eggs, cottage cheese, lean meats, or peanut butter.
Commercial Production
The commercial production of English muffins begins with weighing flour, salt, yeast, and sugar before mixing the ingredients to form a dough. Then, the dough is left to ferment for about 10-15 minutes before it is divided and rounded. Next, the rounded balls of dough are allowed to proof for 30 minutes at a humidity of 50-55%. After that, the proofed dough balls are left on a hot surface to expand before they are baked at 473°F for four minutes, then turned over and baked for another 3.5 minutes. Finally, the muffins are allowed to cool with forced air for about 60 minutes.
Uses
This type of bread lends itself well to any topping. However, to enjoy English muffins to the fullest you want to ensure that they are stored properly. At room temperature, this bread can safely last for up to two weeks. If you want to increase the shelf life of this food, it's recommendable to freeze it. Simply wrap the muffins tightly in aluminum foil or plastic wrap and then place them in a freezer-safe bag. Once in the freezer, this food can safely last for up to 3 months.
English muffin recipes
These muffins are a breakfast food classic. Here are some popular recipes:
FDA Regulation
The Food & Drug Administration classifies English muffins under bakery products. It also provides the recommended reference amount and label statement for this type of bread. The FDA has also included English muffins on their Voluntary Sodium Reduction list with the long-term goal of reducing the amount of sodium in this product.
References
"The History of English Muffins: Just A Pinch Recipes." Just A Pinch, Just A Pinch, 23 Apr. 2018, www.justapinch.com/blog/articles/read/204170/the-history-of-english-muffins. 
Goldfarb, Anna. "The English Muffin Is Not English at All." The Kitchn, Apartment Therapy, LLC., 26 Sept. 2019, www.thekitchn.com/the-english-muffin-is-not-english-at-all-234056. 
Hochman, Karen. "English Muffin History." Thenibble.com, The Nibble, Sept. 2010, www.thenibble.com/reviews/main/breadstuffs/english-muffin-history.asp. 
"English Muffins: Baking Processes." BAKERpedia, BAKERpedia, 21 Oct. 2020, bakerpedia.com/processes/english-muffins/.