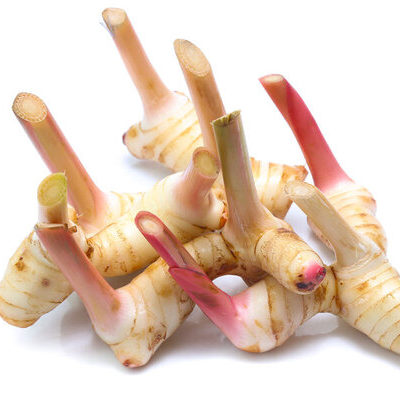 Galangal
---
What is Galangal?
Galangal is the root of four distinctive plants of the Zingiberaceae family, which is closely related to ginger and turmeric. The four different types of galangal are greater galangal, lesser galangal, Chinese ginger, and sand ginger. These roots are an integral part of Southeast Asian cuisine, and are very popular in countries like Malaysia, Thailand, Vietnam, Singapore, Hong Kong, Indonesia, and Laos.
It has a pale white color with pink tinges, and lends a distinct spicy and citrusy taste to the dish with mild sweet notes.

This vegetable may be used in stir-fries,

noodles

, rice dishes, soups, and pastes used for flavoring.
Some major ingredients in Southeast Asian cooking are:
Galangal

Kaffir Lime

Fish Sauce

Oyster Sauce

Chili

Basil 

Palm Sugar

Coconut Milk

Tamarind

Sticky Rice
Origin of galangal
This root vegetable has a long history, and has been growing in the wild for thousands of years in the Eastern Himalayas. It is native to Indonesia, from where it spread to different parts of Asia. The earliest mentions of galangal are from Southern China and Java. The name of this rhizome may have been derived from either the Chinese 'liangtiang' (mild ginger) or the Arabic 'khalanjan'. Eventually, the root made its way to Europe along the trade route in the 9th century, and became popular in medieval Europe. To this day, it is still used in Eastern European cuisine alongside Southeast Asian cuisine.
Nutrition
This vegetable was used in Ayurveda and Traditional Chinese Medicine in ancient times for relief from stomach aches, swelling, and colds. The roots contain antioxidant, antiulcer, anti-inflammatory, anticoagulation, and analgesic properties. It is a rich source of dietary fiber, sodium, iron, and vitamins A & C. Also, it possesses some phytochemicals, such as beta-sitosterol, galangin, emodin, and quercetin. Regular consumption of galangal may help in preventing diseases like cancer, diabetes, ulcers, osteoarthritis, and neurological disorders. 
Commercial production
These roots must be planted in spring, when there is no longer any danger of frost, but the rhizomes can be harvested during most of the year. The main producers of galangal are Thailand, Indonesia, and India. Other countries that produce this include Bangladesh, China and Surinam, as well as the Southeast countries of Malaysia, Cambodia, Laos, Vietnam, and Singapore. It must always be kept in the refrigerator,  in airtight bags, for longer shelf life.
Galangal recipes
This root and lemongrass pair well together and are often combined in many dishes. Here are a few popular recipes to try:
FDA regulations
Galangal is a natural seasoning that the FDA  classifies as a spice. It is recognized as safe for its intended use. However, this food is intended for minimal use. 
References
P.N. Ravindran, I. Balachandran, 21 – Galangal, Editor(s): K.V. Peter, In Woodhead Publishing Series in Food Science, Technology and Nutrition, Handbook of Herbs and Spices, Woodhead Publishing, 2006, Pages 357-364, ISBN 9781845690175, https://doi.org/10.1533/9781845691717.3.357., https://www.sciencedirect.com/science/article/pii/B978184569017550021X 
Basri, Aida Maryam et al. "A Review on the Pharmacological Activities and Phytochemicals of Alpinia officinarum (Galangal) Extracts Derived from Bioassay-Guided Fractionation and Isolation." Pharmacognosy reviews vol. 11,21 (2017): 43-56. doi:10.4103/phrev.phrev_55_16
https://www.ncbi.nlm.nih.gov/pmc/articles/PMC5414456/