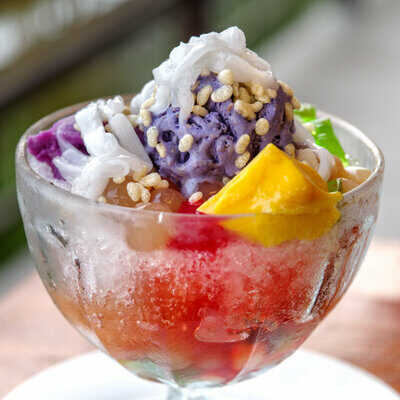 Halo-halo
---
What is Halo-halo?
Halo-Halo is a Filipino dessert made with crushed ice, condensed milk, ube (purple yam), sweetened beans, coconut, sago, gulaman, pinipig (flattened rice), taro, flan, and fruit slices. The Tagalog word means 'mix mix' in English, and refers to the random mélange of ingredients in the dish. The dessert is prepared in different layers and is a medley of colors.
Also, it is served with a topping of ube ice cream.

The dessert is rich in flavors and has a sweet taste.
Some of the most popular Filipino desserts include:
Halo Halo

Leche Flan

Ube Halaya

Sapin Sapin

Mais Con Yelo

Turon

Maja Blanca

Ginataang Bilo Bilo

Minatamis Na Saging

Silvanas
Origin of halo halo
This is a Filipino dish, but has Japanese origins and developed from the Japanese dessert, mitsumame. Japanese immigrants who came to the country during World War II, introduced it to the Filipinos, who then adopted it and developed it to suit local tastes. Another theory is that this dessert was developed from a Japanese dessert called kakigori, and brought to the Philippines by Japanese farmers.
Nutrition
Nutritional profile for halo-halo (1 cup):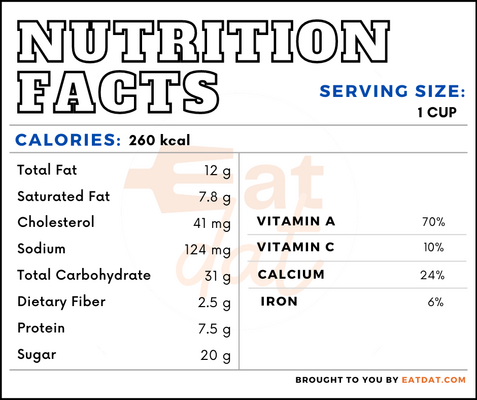 Halo-Halo is rich in calcium, folate, vitamin A, potassium, and sodium. However, this dessert has a high sugar content. Therefore, it is best consumed in moderation together with a balanced diet and regular exercise. 
Commercial production
Halo-halo may be prepared with a lot of variations, depending on tradition and taste. A simple recipe may include an extensive list of ingredients, such as sweetened bananas (minatamis na saging), jackfruit, sweetened chickpeas, sweetened red beans, sweetened white beans, shredded coconut, corn kernels, coconut gel, palm sugar, puffed rice (pinipig), leche flan, purple yam (ube halaya), ube ice cream, frozen milk, and sugar. First, most of the ingredients are added into a tall glass. Then, shaved frozen milk is added in to fill the glass. 
After that, the dessert is topped with a slice of flan and purple yam. Also, ube ice cream is a popular topping. The signature purple color of this dessert comes from purple yam.
Halo halo recipes
This is traditionally consumed as a dessert, and can have a lot of variations. Here are a few recipes:
FDA regulations
Sweetened condensed milk is defined as the food obtained by partial removal of water from milk and sweeteners. The finished product must contain at least 8 percent milkfat and 28 percent milk solids. Condensed milk must be pasteurized. Also, the FDA describes all fresh fruits and vegetables as raw agricultural commodities and strictly regulates all aspects of their growing, harvesting, packing, and storage. Furthermore, tapioca is classified as a Generally Recognized as a Safe (GRS) food.
References
Ronica Valdeavilla, Halo-Halo: Favourite Dessert of The Philippines, Culture Trip, https://theculturetrip.com/asia/philippines/articles/the-curious-history-of-halo-halo-the-philippines-favourite-dessert/ 
Chandrasekara, Anoma, and Thamilini Josheph Kumar. "Roots and Tuber Crops as Functional Foods: A Review on Phytochemical Constituents and Their Potential Health Benefits." International journal of food science vol. 2016 (2016): 3631647. doi:10.1155/2016/3631647, https://www.ncbi.nlm.nih.gov/pmc/articles/PMC4834168/