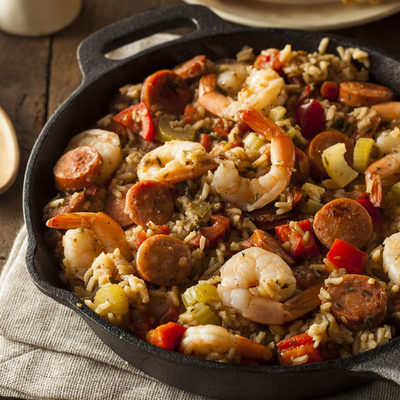 Jambalaya
---
What is Jambalaya?
Jambalaya is a popular dish which primarily consists of vegetables and meat combined with rice. It has a background related to West African, Caribbean, German, French Spanish, and Native American cultures. Traditionally, the vegetables consist of celery, onion, and green bell pepper. These vegetables are known as the "holy trinity" in Cajun cooking. Carrots and garlic can also be included in the mix.
The meat usually includes smoked meat along with chicken or pork.

The dish is rich in calories, carbohydrates, proteins, and fats.
There are two main types of this dish which are Creole and Cajun Jambalaya. The differences between them are given below:
Creole is red while Cajun is brown.

Creole has tomatoes in it, whereas Cajun does not.

How the ingredients for both are cooked also differ. 

Creole is more prevalent in New Orleans, while Cajun is more popular in Louisiana.
The top three box brands in the US are:
Oak Grove Smokehouse Creole Jambalaya Mix

Zatarain's Black Eyed Peas & Rice

Jambalaya Girl Gumbo Base with Roux, New Orleans Soup Mix
Jambalaya origin
Jambalaya originated from the state of Louisiana in the United States in the 1800s. Louisiana is a state that had deep French roots. However, there was a period when the Spanish held control of Louisana's territory. That was precisely from 1762 to 1800. In 1803, Napoleon sold the region of Louisiana to the United States. All those times was enough for Spain to leave a significant mark on local cuisine. They tried to integrate their flavors into the immediate environment's dish. However, their popular ingredient, saffron was not around. By using tomatoes that were readily available in the region, Creole jambalaya was invented. This is otherwise known as red Jambalaya. 
The French culture still had a significant influence on the area as they reacquired it at the beginning of the 1900s. They introduced new spices from the Caribbean into the local cuisine. The modern well known form of this dish started to take shape. Another type known as brown or Cajun jambalaya began to appear. Tomatoes became less available as you move outside the city. There was no way to include it among the dish's ingredients. This version added onions, pepper, oil, and different types of meat. During the 1840s, a lot of Germans started to move into Louisiana. Through the Germans, sausage became a part of recipes. Nowadays, its nature has evolved. Many people have their variation, style, and ingredients. 
Nutritional value
From a 100 g serving, the nutritional value is given below: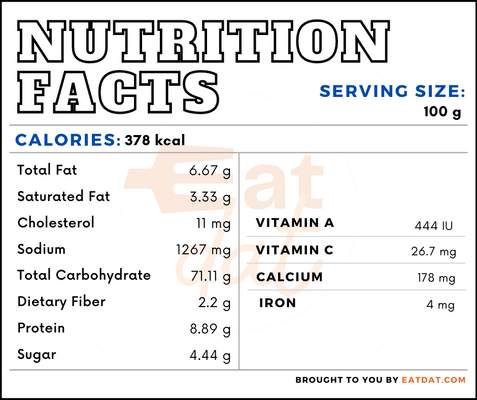 This should supply 12.5% of your daily needs if you are on a 2000-calorie diet.
Jambalaya recipe
A typical recipe for this can be made with the following ingredients below:
1 pound peeled, medium-size raw shrimp, deveined 

1/2 cup chopped fresh flat-leaf parsley 

Garnish: chopped green onions

1 pound andouille sausage, sliced 

Two tablespoons canola oil

2 cups diced sweet onion 

1 cup diced celery 

One large red bell pepper, diced

Four garlic cloves, minced

One bay leaf

Two teaspoons Creole seasoning

One teaspoon dried thyme

One teaspoon dried oregano

Two cans diced tomatoes and green chiles, drained

Three cups chicken broth

2 cups uncooked long-grain rice 

2 cups shredded cooked chicken
Application
Here are some secrets to cooking the perfect jambalaya.
Make the ratio of the rice twice as much as the other ingredients.

Try a little canned tomato with the crushed natural tomatoes.

Stir the food appropriately. If you over-stir, the rice will become mushy.
If you have any leftover, one thing you can do is to place it in a vacuum-sealed container. However, this will prevent moisture from escaping the rice component of the Jambalaya and make it mushy. A different approach will be to put it in a zip lock bag to seal it as much as possible. Then place the package in the freezer and use a vacuum machine to remove air from the pack.
One last thing to note is that this dish is often mistaken for Gumbo. They look similar and contain almost the same ingredients. However, the difference lies in the addition of rice to each of them. Jambalaya is a stew cooked with rice, while Gumbo is a stew served with rice. 
FDA regulations
The FDA does not have any regulation that applies directly to Jambalaya. However, the Food and Drug Administration has its rules concerning risk and risk assessment in rice and its products. Rice is an integral component.
References
"History and types of jambalaya"-https://www.thespruceeats.com/what-is-jambalaya-p2-1328785
"More information on the nutritional value of Jambalaya" –https://www.nutritionix.com/i/nutritionix/jambalaya-1-serving-about-2-cups/56d07d1bb13ca5a4734c03e2
"Difference between Gumbo and Jambalaya"-https://rawspicebar.com/blogs/spices-101/difference-between-jambalaya-and-gumbo#:~:text=The%20easiest%20way%20to%20tell,that%20is%20cooked%20with%20rice.