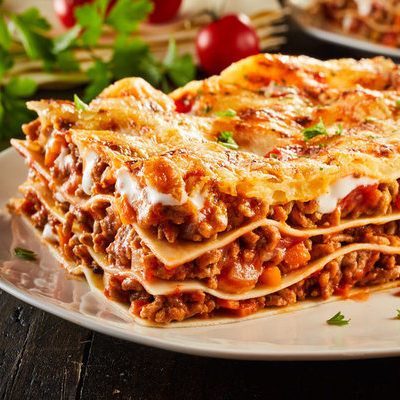 Lasagna
---
What is Lasagna?
Lasagna is a prepared dish of Italian origin that includes stacked layers of pasta, tomato and bechamel sauces, meat, vegetables, and cheese. The ingredients for this dish can vary according to the recipe being used and the region where it's being made.
The wide, flat pasta used in this dish is called lasagne.

While the pasta used to have to be boiled, today there are

no-bake

versions designed especially for this dish.
The top 5 frozen brands in the US, according to Food Shark Marfa are:
Mountain House

Nestle Stouffer's Vegetable Lasagna

Amy's Light and Lean Spinach Lasagna

Omaha Steaks

Udi's Gluten-Free Foods Broccoli & Kale Lasagna
Origin of lasagna
The word lasagna originates from the Greek 'laganon' which was used to describe flat dough sliced in strips. When the Romans overtook the Greeks in 146 BC much of their language, culture, and food remained. The traditional version of this dish, known as lasagna alla bolognese, originated in the Italian region of Emilia-Romagna in the 13th century. This version of this dish uses both ragù and bechamel sauce.
The first known mention of this dish in a cookbook was in the 1390s in Britain. Some argue that the original version was actually born in Naples in the 14th century. Today, this version of the dish is known as lasagne di carnevale and includes fried meatballs, hard-boiled eggs, ricotta, or mozzarella. Many variations evolved from these original recipes and later, in the 20th century, chefs even began adding spinach to the pasta. 
Nutrition
The nutritional value for this pasta depends largely on the ingredients that have been used. However, the typical version can have around: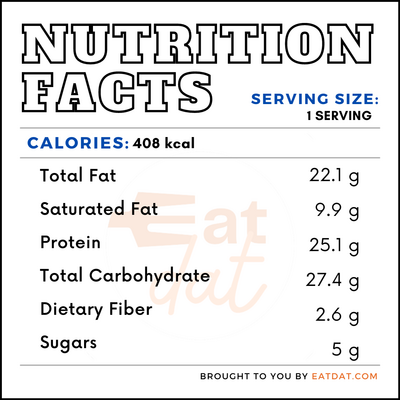 The meat and cheese in this dish give it B vitamins and iron, as well as vitamins A and C from the vegetables. While it does contain high amounts of protein, the level of fat and carbohydrates don't make this a very healthy food. Should you want to make a healthier version of this dish, you can make simple swaps like whole-wheat noodles, lean meats, less cheese, and more veggies.
Commercial production
The commercial production of this dish begins with preparing the filling. Raw ingredients such as vegetables, spices, and pureed tomato are cooked together in a heated mixer to create a sauce. The sauce is then pumped into tubs to create a saucy base. Next, a layer of cooked lasagna noodles are placed on top of the sauce. Then, the filling is prepared by heating and stirring the ingredients in the mixer.
The filling alongside some mozzarella cheese is added on top of the first noodle layer. In another steam-heated mixer, the bechamel sauce is made from a combination of milk, oil, and rice flour. A combination of cheeses, salt, and a dash of nutmeg flavor this sauce to perfection. A second layer of filling is added and topped with pasta once again then it is topped off with fresh bechamel sauce. The finished product is sent to a blast freezer, sealed with cellophane, packaged, and stored until ready to be shipped off. In 2018, the sales of pasta in the US totaled $2.14 billion.
Use
Cooking this dish at home from scratch is a delicious, but time-consuming job. That's why you want to make sure you can get the most out of your leftovers! To store leftovers properly, you should place them in an air-tight container and store them in the fridge for 3-5 days. If you are hoping to keep this dish for longer, you should freeze it. Freezing this dish will allow you to safely store it for 2-3 months, although it's crucial to make sure it's properly thawed before reheating it.
Lasagna recipes
This savory Italian dish can be enjoyed in both traditional and modern ways. Here are some popular recipes:
FDA regulation
The US Department of Agriculture classifies this pasta into four types: with meat sauce, with meat and sauce, with poultry, and other. The USDA has a specific regulation concerning the processing, food safety measure, and ingredients in frozen lasagna. Each different type of this dish has different measures depending on its ingredients. The FDA regulates the labeling of this prepared dish including the reference amounts, ingredients, and label statements that are permitted.
References
"A Brief History of Lasagna." Pagliacci.com, Pizza Pagliacci, 11 Feb. 2015, www.pagliacci.com/blog/news/post/a-brief-history-of-lasagna.
"A Short History of Lasagna." Italymagazine.com, ITALY Magazine, www.italymagazine.com/dual-language/short-history-lasagna.
Tremblay, Sylvie. "Lasagna Nutrients." SF Gate, Hearst Communications Inc., 6 Dec. 2018, https://healthyeating.sfgate.com/lasagna-nutrients-2151.html.
"Lasagna, Frozen." Usda.gov, U.S. Department of Agriculture, 31 July 1997, www.ams.usda.gov/sites/default/files/media/CID%20Lasagna%2C%20Frozen.pdf