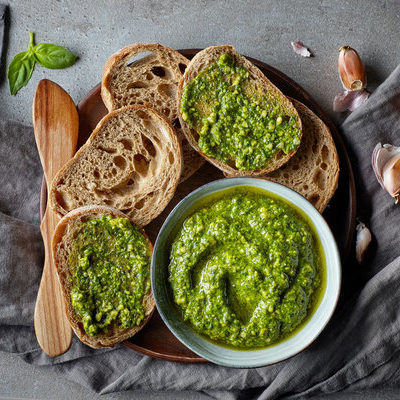 Pesto
---
What is Pesto?
Pesto is a creamy, savory sauce of Italian origin. It is made by grinding garlic, pine nuts, basil, Parmesan cheese, and olive oil together into a thick, green paste. It often serves as a condiment used for flavoring dishes.
According to Good Housekeeping, the top ten most popular brands of this sauce are:
Soli Italian 

Marks & Spencer

Sacla Italia

Mattarello The Fresh Pasta Company 

Aldi

La Famiglia Rana

Dell Ugo

By Sainsbury's

Belazu

Filippo Berio
Origin of pesto
This food has its origin in Genoa, in the northern part of Italy in the 1600s. Pesto originated from the Genoese word "pestâ", which means to crush or to pound. The original sauce was made using a pestle and a mortar, hence the name. However, the preparation involves grinding, not pounding. 
The traditional recipe contained crushed garlic, pine nuts, basil, olive oil, and Parmesan cheese. Later on, a chef named Meulien included cashew nuts in the recipe. Many versions of this food followed this innovative take on the original. The green color from the basil in this sauce makes it easily distinguishable. Nevertheless, some variations are red due to the presence of red bell peppers or sun-dried tomatoes. 
Nutrition
A 100 mL serving of pesto contains: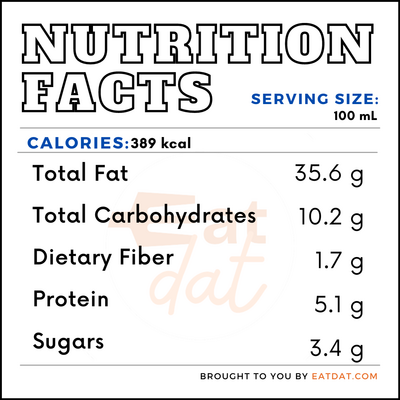 This sauce has some health benefits, which include:
It contains antioxidants that can protect your body cells from damage.

This sauce is rich in monounsaturated fats, which are good for heart health.

This contains manganese, which is good for blood clotting and body metabolism.

It can promote dental health because of its phosphorus content.
Commercial production
The first stage in production is to wash, dry (by centrifugation), and slice basil. The basil is then mixed with salt and olive oil. This base mixture is placed in the refrigerator at 35.6°F for 6 to 12 months. After that time, the base mixture is combined with herbs, pine nuts, cheese, and oil. The last hurdle of the process is to place the pesto inside a container and pasteurize it.
The global pasta sauce market was valued at $33 billion in 2018. This value was expected to hit about $52.26 billion, with a growth rate of 6.8% between 2019 and 2025. The global pasta sauce market is grouped into alfredo-based, tomato-based, or pesto-based. 
Application
If you want to store this food, you can keep it inside an airtight container in the fridge for a week. Another way to store this sauce is to freeze it in an ice cube tray. Then, move the cubes into a heavy-duty plastic bag. This way, it will last for six months. If you need to thaw this food when frozen, place it in a refrigerator or a microwave on medium power.
There are some vital tips that can help you while preparing this food. Bear in mind that basil turns brown because of oxidation. To prevent this, pour a layer of olive oil over the pesto to prevent air from oxidizing it. Also, instead of using pine nuts as in the traditional recipe, you can try pecans or walnuts. Last but not least, make sure the flavor of the olive oil you use appeals to you.
Pesto recipes
This creamy sauce can be enjoyed in salads, soup, and pasta dishes. Here are some popular recipes:
FDA regulation
The Food and Drug Administration does not allow the use of undeclared milk, walnuts, or pine nuts in pesto. The reason is that there have been product recalls due to allergy concerns in the past. The FDA also has a recommended reference amount of pesto sauce consumed per eating occasion, which is ¼ cup (60mL). Manufacturers are to convert this reference amount to the label serving size in a household measure.
References
"What Is Pesto? Basil Pesto Uses, Tips, and How to Make It." MasterClass, MasterClass, 2 Oct. 2020, www.masterclass.com/articles/what-is-basil-pesto-easy-recipe-and-tips-for-making-perfect-pesto. 
Zion Market Research. "Global Pasta Sauce Market Will Reach to USD 52.26 Billion By 2025: Zion Market Research.", www.globalnewswire.com, 29 July 2019, https://www.globenewswire.com/news-release/2019/07/29/1892771/0/en/Global-Pasta-Sauce-Market-Will-Reach-to-USD-52-26-Billion-By-2025-Zion-Market-Research.html
"CFR – Code of Federal Regulations Title 21." accessdata.fda.gov, U.S Food & Drug Administration, 1 Apr. 2019, https://www.accessdata.fda.gov/scripts/cdrh/cfdocs/cfcfr/CFRSearch.cfm?fr=101.12&SearchTerm=pesto