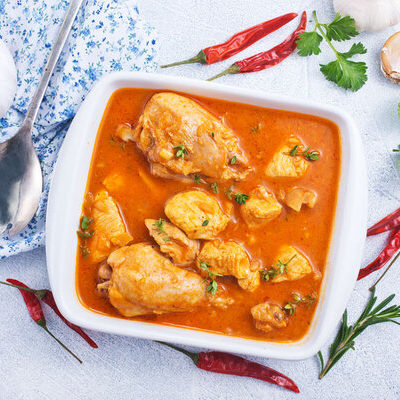 Red Curry
---
What is Red Curry?
Red curry is a food of Thai origin that consists of curry paste cooked with coconut milk and other additional spices. The coconut milk and red curry paste serve as the basis of the meal. Red curry paste contains garlic, red chili peppers, lemongrass, turmeric, shrimp paste, and sea salt.
The presence of red chili peppers in this meal is responsible for its distinct red color. 

It is usually eaten with

meat

,

vegetables

, or a combination of both, and offers a spicy, creamy, and smooth taste.
The top 9 most popular curry paste brands on the market are are:
Kitchens of India

Mae Ploy

S&B

Maesri

Mae Ploy

CoCo Ichibanya Curry House

Thai Kitchen

Patak's

House Foods
Origin of red curry
This curry has its origin in Thailand. Thai curry is a popular meal in Thai cuisine and is made from different types of curry paste. Thailand is the only Southwest Asian country that was not colonized by the West. This factor ensured that Thailand maintained its native dishes and cooking style. However, Thailand's Asian neighbors had previously influenced Thai cuisine. 
The country absorbed Chinese cooking methods like deep frying and stirred frying. The Malays had also influenced the Thai with their love for coconuts. The Indians also had an impact on the use of spicy seasonings like coriander and cardamom. Red and green curry are the two most popular types of curry. They both utilize several types of herbs and spices. 
Function
In the kitchen, this curry paste can be prepared together with meats like duck, shrimp, fish, and chicken. This curry is even used in soups, stews, and marinades. It also adds worlds of flavor to cold dishes like salads or salsa.
Nutrition
In a serving size of 1 cup, there are: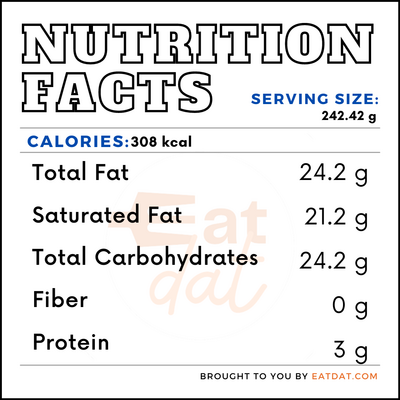 This food offers significant health benefits for the body. The ingredients present in the this curry paste can provide nourishment in various ways. Red chili pepper might be able to increase weight loss and reduce the risk of obesity. It also contains several vital nutrients and minerals like vitamin A and C, as well as copper. Garlic contains many nutrients, and it has compounds with useful medicinal properties. 
Sea salt can improve hydration and also stabilize blood pressure. However, sea salt should not be added to this food in excess due to its high sodium content. Furthemore, people who have kidney disease should watch their salt consumption.
Commercial production
The large scale production of this curry paste involves the mixture of aromatic herbs and red chilies that have been harvested at their peak. India is the biggest producer of spices. The country produces 4.4 million tons of spices every year. The global market value for spices was valued at $11.5 billion in 2019. This value is projected to increase to about $14.5 billion by the end of 2025, with a growth rate of 3.89% between 2019 and 2025. 
Application
There are two ways to store red curry paste. The first one is to pour the paste into a neat screw-top jar and add a layer of oil over it. This method of preservation will make it last for about one month. Another technique is to pour the curry paste into ice-cube trays and freeze it, and then move the cubes to a sealable plastic bag. These cubes will last for three months in the freezer.
Red curry recipes
This curry can add flavor to just about any dish. Here are some popular recipes:
FDA regulation
The Food and Drug Administration inspects all imports, curry powder, or red chilies to ensure they are up to standard. Should these food products not comply with health and safety regulations, they can be withheld from supermarkets. The organization also classifies garlic, one of the main ingredients in this food, as a raw agricultural commodity. The body oversees its production, planting, growing, and harvesting. The FDA also has a standard of identity for garlic and defines it as the dehydrated or fresh bulb or cloves obtained from Allium sativum, a lily family genus. 
References
"Red Curry: Traditional Stew From Thailand." TasteAtlas, Atlas Media Ltd., 31 Aug. 2016, www.tasteatlas.com/red-curry. 
"Red or Green Thai Curry? All You Have To Know About The Two Before Ordering." NDTV Food, NDTV Food, 2 Feb. 2018, food.ndtv.com/food-drinks/red-or-green-thai-curry-all-you-have-to-know-about-the-two-before-ordering-1800266. 
Atli, Arnarson. "Chili Peppers 101: Nutrition Facts and Health Effects." Healthline, Healthline Media, 13 May 2019, www.healthline.com/nutrition/foods/chili-peppers. 
"CFR – Code of Federal Regulations Title 21." accessdata.fda.gov, US Food and Drug Administration, 1 Apr. 2019, www.accessdata.fda.gov/scripts/cdrh/cfdocs/cfcfr/CFRSearch.cfm?fr=112.1.