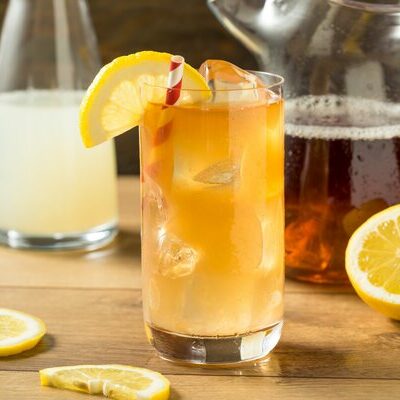 Arnold Palmer
---
What is an Arnold Palmer?
Arnold Palmer is a mocktail. This non-alcoholic beverage is made up of iced tea and lemonade in equal parts. It has a refreshingly sweet and lemony flavor. When vodka is added to the mix, it is known as 'Arnold Palmer spiked'.
The name is in reference to an American golfer, who used to order this beverage often.

Also, this beverage is available in the canned version with the golfer's photo and signature printed on the bottle.
Some of the most popular mocktails include:
Virgin Mojito

Virgin Bloody Mary

Shirley Temple

Arnold Palmer

Non-alcoholic Moscow Mule

Roy Rogers

Virgin Piña Colada

Non-alcoholic Gin and Tonic

No Tequila Sunrise

Abstinence on the Beach

SHAMpagne
Origin of arnold palmer
The Arnold Palmer was invented in the 1960s, and named after the professional American golfer. The golfer went to the club and asked for the specific recipe of iced tea and lemonade. A woman overheard this and asked the waitress that she would also have that Arnold Palmer drink. Then it became the official name of the beverage.
Nutrition
Nutritional profile for Arnold Palmer (1 bottle):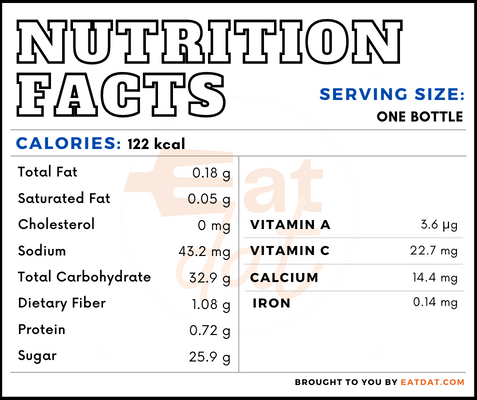 Lemon juice contains plenty of different flavonoids and phenolic compounds, which are powerful antioxidants. Traditionally, lemon juice has been used as a treatment for high blood pressure, common cold, sore throat, and irregular menstruation. Also, regular consumption of lemon juice can help in lowering the risk of stroke, cancer, and asthma, while increasing iron absorption, immune system functioning, and weight loss.
On the other hand, tea is known to help fighting cancer due to its high level of antioxidants because of the existence of polyphenols. Tea contains flavonoids which can keep the heart healthy by lowering bad cholesterol. These flavonoids also keep blood pressure in check and boost immunity. Additionally, they help in combating inflammation, diabetes, and neurodegenerative diseases. However, overconsumption of caffeine can lead to insomnia, diarrhea, tremors, heartburn, dizziness, etc. Excessive intake of tea can also lead to periodontitis. Therefore, two or three cups of tea a day is the ideal amount. 
Commercial production
To prepare an Arnold Palmer, first the lemonade and iced tea are made or bought separately. Next, the two beverages are mixed in equal ratios. The original drink was more to the tune of 3:1 ratio tea and lemonade, but with time, the popular ratio has changed.
A commercially produced beverage called Arnold Palmer Spiked Half & Half is also available on the market. The product is the result of a joint venture between MillerCoors and AriZona Beverages. 
Arnold palmer recipes
This is a simple mixture of lemonade and iced tea. Since this is a combination of sweetness and refreshing lemony flavor, this mocktail can be used to prepare desserts and baked goods as well as a drink. Here are a few recipes:
FDA regulations
The FDA defines lemon juice as the unfermented juice obtained from ripe lemons from which seeds and excess pulp are removed. The acidity of concentrated lemon juice must not exceed 15 percent of the acidity of the finished food.
The FDA has standards and specifications for the tea bags or infusers, which must be adhered to. The USDA covers other aspects of tea production, import and packaging. It describes black tea as fully fermented, dry tea and specifies different labels for different sizes of black tea but selling tea dust is not allowed. The USDA also governs instant tea mixes, including green tea, flavored black tea, decaffeinated 'tea', etc. However, all tea processing must be done in accordance with the sanitary and safety requirements of the FDA.
References
Klimek-Szczykutowicz, Marta et al. "Citrus limon (Lemon) Phenomenon-A Review of the Chemistry, Pharmacological Properties, Applications in the Modern Pharmaceutical, Food, and Cosmetics Industries, and Biotechnological Studies." Plants (Basel, Switzerland) vol. 9,1 119. 17 Jan. 2020, doi:10.3390/plants9010119, https://www.ncbi.nlm.nih.gov/pmc/articles/PMC7020168/
Khan, Naghma, and Hasan Mukhtar. "Tea and health: studies in humans." Current pharmaceutical design vol. 19,34 (2013): 6141-7. doi:10.2174/1381612811319340008, https://www.ncbi.nlm.nih.gov/pmc/articles/PMC4055352/