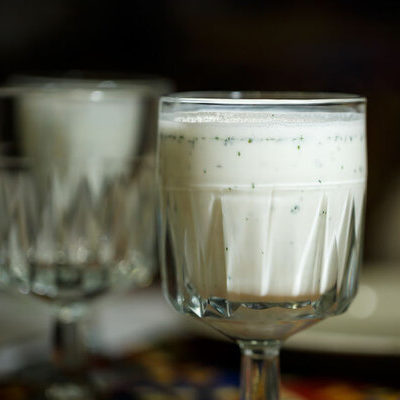 Ayran
---
What is Ayran?
Ayran is a drink made by mixing natural yogurt, salt, and water. It is a Middle Eastern drink and is especially popular in Turkey, where it is the most consumed beverage after water. This drink has a liquid consistency with a slightly sour and salty taste.
Rock salt is commonly used in the making of this drink.

The drink has a white color and a frothy top.
The top 10 most popular yogurt brands on the market are:
Chobani

Siggi's Products

Noosa

Fage

Stonyfield

Danone

Voskos

Yoplait

Anderson Erickson Dairy Products Brand

Brown Cow
Origin of ayran
Ayran has always been a popular drink in Turkish culture. The word comes from the Turkish word "yoghurt", which originates from the verb "yogurtmak," meaning to blend. The Gokturks developed this drink many centuries ago. The story goes that they were attempting to improve the flavor of bitter yogurt by diluting it with water. The original recipe for this drink has undergone few variations, which means the modern drink is largely unchanged.
Functions
Ayran can serve as an accompaniment for grilled and fried meat. People also consume this yogurt-based drink with doner, kebabs, and pastries. Furthermore, it is a popular means of refreshment on sunny days. 
Nutrition
A 100ml serving of Ayran contains: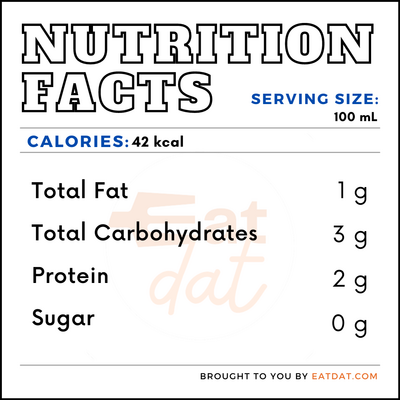 The core ingredient in this Turkish drink is yogurt. Here are some health benefits of this beverage:
It has a high protein content, which helps to support body metabolism and improve weight control.

This drink may be capable of strengthening your immune system and reducing the incidence of diseases.

It can provide nutrients needed for improving bone health and protecting against osteoporosis.

This drink is rich in B vitamins that can protect the body against heart disease.
However, this drink might not be suitable for everyone. People who are lactose intolerant might not be able to consume it, as it may cause diarrhea and abdominal pain. Individuals with dairy allergies may want to avoid this drink.
Commercial production
The traditional method of producing Ayran involves mixing yogurt, salt, and water. However, the industrial preparation of this drink involves the use of yogurt starter cultures. The global yogurt market was valued at $40.6 billion in 2019. This value is expected to reach $51.2 billion by 2024. 
Application
Ayran is easy to make by yourself. All you need is natural yogurt, salt, and water. To achieve a good consistency, the amount of yogurt should be twice the amount of water. Nonetheless, the amount of salt to add is based on your personal preference. When you are ready to craft this yogurt-based beverage, place the three ingredients in a blender. Next, blend the three ingredients until they are smooth.
Some important tips that can be helpful while making this drink include:
Homemade yogurt will be perfect for this drink. However, you can also use unsweetened store-bought yogurt or Greek yogurt. Greek yogurt will need some extra water because it is quite thick.

You can use an electric hand mixer to blend the ingredients instead of a blender.

Also, you can use soda water instead of plain water.

Add ice cubes to the mixture to get a chilled drink.

Pour a little diced cucumber or crushed thyme into the drink for extra flavor.
Ayran recipes
Customize this yogurt drink to your taste with different ingredients. Some top-rated recipes include:
FDA regulation
The Food and Drug Administration does not mention Ayran in any of its regulations. However, yogurt is the main ingredient in the production of this drink. The organization has standards of identity for yogurt, low-fat yogurt, and nonfat yogurt. Yogurt is food produced by culturing one or more of the dairy ingredients specified by the FDA with a characterizing bacterial culture that contains two lactic acid-producing bacteria. The organization is in charge of producing, processing, and labeling these three forms of yogurt. Some of the optional ingredients used in yogurt production include: vitamins, dairy ingredients, flavoring ingredients, and color additives.
References
Kanan, Onur. "Ayran, Turkey's Favorite Summer Drink." Dailysabah.com, Daily Sabah, 22 May 2014, www.dailysabah.com/feature/2014/05/22/ayran-turkeys-favorite-summer-drink. 
Joseph, Michael. "Ayran: A Uniquely Sour and Salty Dairy Drink." Nutrition Advance, Nutrition Advance, 22 Apr. 2020, www.nutritionadvance.com/ayran-drink/. 
Elliott, Brianna. "7 Impressive Health Benefits of Yogurt." Healthline, Healthline Media, 20 Jan. 2017, www.healthline.com/nutrition/7-benefits-of-yogurt. 
"CFR – Code of Federal Regulations, Title 21." accessdata.fda.gov, US Food and Drug Administration, 1 Apr. 2019, www.accessdata.fda.gov/scripts/cdrh/cfdocs/cfcfr/CFRSearch.cfm?fr=131.200.