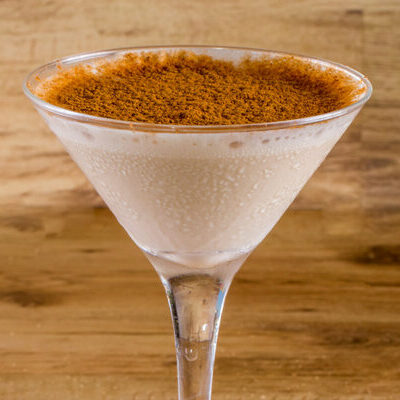 Brandy Alexander
---
What is Brandy Alexander?
Brandy Alexander is a dessert cocktail made from brandy or cognac, crème de cacao, and cream. It was developed from a similar gin-based cocktail, which was simply known as Alexander. This cocktail has a sweet and creamy taste with strong notes of chocolate, and has been compared to a spiked milkshake.
It is on the International Bartender Association's cocktail list.

The name of the cocktail may be a reference to Troy Alexander, the bartender who is said to have created it.
Some of the most popular dessert cocktails are:
Mudslide

Grasshopper

Brandy Alexander

Chocolate Martini

Golden Cadillac

Golden Dream

Pink Squirrel

Irish Coffee

Spanish Coffee

Carajillo

White Russian

Espresso Martini
Origin of brandy alexander
The creation of the Alexander is credited to Troy Alexander, bartender at Rectors in New York, USA. He created the drink in honor of a fictional advertising character called Phoebe Snow, used to promote "clean" coal on American railroads. The woman wore pure white clothes, which remained white despite traveling in trains, and hence the color of the cocktail. The cocktail was created during the turn of the century and named after the bartender himself. This original cocktail contained gin, instead of brandy.
However, it is believed that the actual Brandy Alexander was created in honor of the wedding of Princess Mary of England to Viscount Lascelles. Other sources credit it to Tsar Alexander II of Russia or to opera critic Alexander Dragon. The actual story is lost to time. Nonetheless, this cocktail is still enjoyed the world over and was actually John Lennon's favorite cocktail.
Nutrition
Nutritional profile for Brandy Alexander (1 glass/183 g):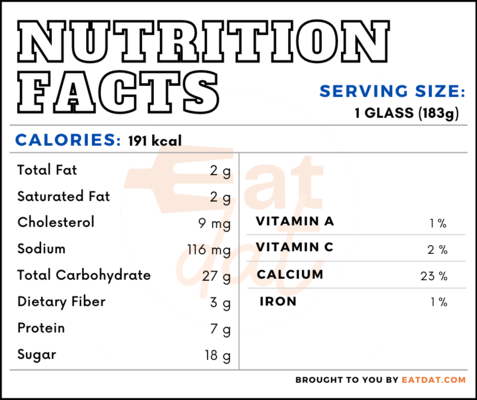 *Percent Daily Values are based on a 2000 calorie diet
The cocoa in crème de cacao is rich in phenolic compounds. Flavonoids such as catechin, epicatechin, and procyanidins induce antioxidant activity, providing beneficial health effects. Also, cream is a healthy source of essential micronutrients such as calcium, phosphorus, potassium, sodium, choline, vitamin A, retinol, carotene, vitamin K, essential fatty acids, and cholesterol. Consumption of dairy fats, such as cream, is linked to reduced risk of childhood obesity. Additionally, cream and other dairy products also reduce the risk of diabetes, cardiovascular diseases, strokes, and increase bone mineral density.
Cognac has the capacity to increase plasma antioxidant capacity. Also, low concentrations of cognac may be used to increase cardiac activity. Still, this cocktail has a 19 percent ABV. Like any other alcoholic drink, overconsumption of it can result in a change in the brain's functioning patterns, liver cirrhosis, pancreatitis, heart problems, strokes, different types of cancers, as well as affect overall immunity.
Commercial production
To prepare a Brandy Alexander, the ingredients required are brandy (usually cognac), crème de cacao, and cream. Dark crème de cacao is usually preferred but it may be mixed with light crème de cacao. First, all the ingredients are mixed in equal proportion and shaken well with ice in a cocktail shaker. Then, the liquid is strained into a glass. 
This drink is served in a cocktail glass. Usually, it is garnished with grated nutmeg. Some people drizzle chocolate syrup and others opt to add whipped cream to give it a more dessert-type feel. 
Brandy alexander recipes
This is best served as a dessert cocktail after dinner. Also, it works as a cocktail hour drink or a happy hour drink. This drink is best consumed with snacks instead of with heavy meals. Here are some popular recipes:
FDA regulations
Brandy Alexander is classified as a cocktail by the TTB and defined as a drink made with brandy, crème de cacao, and cream. Brandy is defined as spirits distilled from the fermented juice, mash or wine of fruit or from its residue and containing at least 40% alcohol by volume. Crème de cacao is defined as a liqueur or cordial with the predominant flavor of cacao. Cognac is defined as a grape brandy distilled in the Cognac region of France in compliance with the laws and regulations of the French Government. 
The FDA defines cream as the liquid milk product high in fat separated from milk, which may have been adjusted by adding milk, concentrated milk, dry whole milk, skim milk, concentrated skim milk, or nonfat dry milk. Furthermore, cream must contain at least 18 percent milkfat. 
References
Suzanna H., The History of the Alexander, Make Me A Cocktail, https://makemeacocktail.com/blog/the-history-of-the-alexander/ 
Lordan, Ronan et al. "Dairy Fats and Cardiovascular Disease: Do We Really Need to be Concerned?." Foods (Basel, Switzerland) vol. 7,3 29. 1 Mar. 2018, doi:10.3390/foods7030029, https://www.ncbi.nlm.nih.gov/pmc/articles/PMC5867544/
Kiviniemi, Tuomas O et al. "Effects of cognac on coronary flow reserve and plasma antioxidant status in healthy young men." Cardiovascular ultrasound vol. 6 25. 3 Jun. 2008, doi:10.1186/1476-7120-6-25, https://www.ncbi.nlm.nih.gov/pmc/articles/PMC2427009/ 
Thorning, Tanja Kongerslev et al. "Milk and dairy products: good or bad for human health? An assessment of the totality of scientific evidence." Food & nutrition research vol. 60 32527. 22 Nov. 2016, doi:10.3402/fnr.v60.32527, https://www.ncbi.nlm.nih.gov/pmc/articles/PMC5122229/