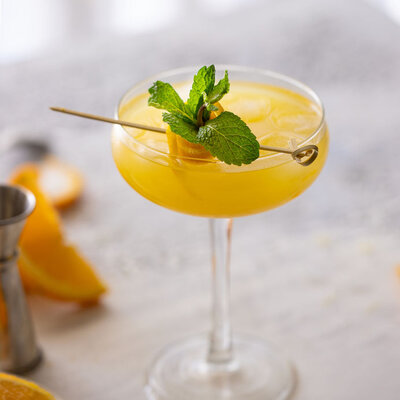 Valencia Fizz
---
What is Valencia Fizz?
A Valencia fizz is a mocktail, or alcohol-free cocktail, that contains orange juice, lemon juice, soda, sliced lemon, and sugar. The orange juice used for this beverage is made from Valencia oranges, hence the name. There are alcoholic versions of Valencia fizz that may use orange liqueur, orange bitters, gin, cava, champagne, or prosecco.
Due to its combination of orange juice and soda, this mocktail is both energizing and refreshing.

In the United States, mocktails and

non-alcoholic cocktails

have increased in popularity in recent years, as people have become more health-conscious.
The top 10 most popular mocktails are:
Virgin Daiquiri

Virgin Mint Lemonade

Atomic Cat

Bellini

Pomegranate Spritzer

Virgin Sangria

Virgin Mary

Non-alcoholic Fizz

Mojito

Shirley Temple
Origin of valencia fizz
While there is no exact date of creation for this mocktail, there are several different theories on where it comes from. The first is that it is an alcohol-free version of Buck's Fizz, a beverage made of two parts champagne and one part orange juice. Buck's Fizz was created in 1921 in London by a bartender named Pat McGarry. However, in 1925 a similar cocktail, known as the Mimosa, was created in Paris. Later in 1932, a cocktail known as Agua de Valencia began to be served in bars in the Spanish city of Valencia. 
Nutrition
The main ingredient in Valencia fizz is orange juice, which offers vitamin C, potassium, folate, magnesium, and iron. Consuming this beverage regularly can help strengthen the immune system, manage blood pressure, and maintain bone health. Additionally, lemons and lemon juice provide several health benefits, including improved heart health, preventing kidney stones, improving digestion, and maintaining a healthy weight.
However, a single can of soda exceeds the daily sugar intake recommended by the American Heart Association. Sugary drinks have also been linked to health issues such as obesity, diabetes, heart disease, gout, and poor bone health. On the other hand, the non-alcoholic version of this drink would have significantly less sugar and be notably healthier. Nonetheless, Valencia fizz is best consumed in moderation to minimize daily sugar intake.
Commercial Production
This beverage is commonly made fresh in bars and restaurants. First, Valencia orange juice is added to a mocktail glass. Next, lemon juice and sugar are also added. After that, soda is poured into the mixture and this mocktail is well stirred. Finally, ice is added and the drink is garnished with a slice of lemon.
Valencia Fizz recipes
This mocktail can be adapted to any palate. Here are some popular recipes:
FDA Regulations
The Food & Drug Administration regulates the main ingredients used in making Valencia Fizz. The organization strictly regulates pasteurized fruit juice, including labeling and content. The FDA classifies lemon as a raw agricultural commodity and, therefore, regulates its growing, harvesting, and packing. The FDA also has a standard of identity for this citrus fruit juice, which it defines as "the unfermented juice, obtained by a mechanical process from this fruit when matured and from which seeds and excess pulp are removed." Furthermore, the FDA regulates soda to ensure that they are safe to consume and accurately labeled. 
References
Meyer, Zlati. "Drinks with a Twist: Non-Alcoholic Mocktails Are Creating Lots of Buzz." USA Today, Gannett Satellite Information Network, 18 Jan. 2019, usatoday.com/story/money/2019/01/18/mocktails-create-buzz-no-alcohol-cocktails-trend/2477550002/. 
Difford, Simon. "Buck's Fizz and Mimosa Cocktails – History and Recipes." Diffordsguide.com, Difford's Guide, 2 Dec. 2016, www.diffordsguide.com/encyclopedia/1244/cocktails/bucks-fizz-and-mimosa-cocktails-history-and-recipes. 
"Agua De Valencia Drink History and Recipe." Valencian Foodie, Valencian Foodie, 2 Nov. 2018, valencianfoodie.com/agua-de-valencia-drink-history-and-recipe/.