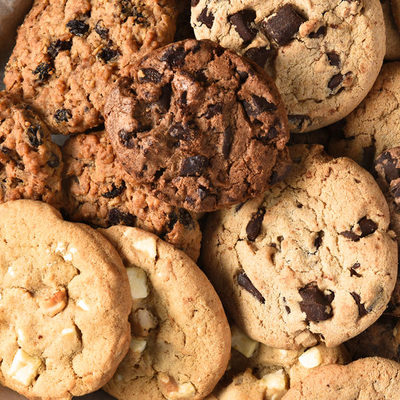 Chocolate Chip Cookies
---
What are chocolate chip cookies?
Chocolate chip cookies are drop cookies made from cookie batter sprinkled with sweet chocolate morsels. This cookie batter normally contains flour, butter, sugar, salt, eggs, vanilla extract, and water. Although this cookie is simple to make at home, you can find plenty of premade batters and cookies at supermarkets.
Chocolate chip cookies are

America's favorite cookie

with over 50% of Americans saying they prefer them.

This cookie is so well-liked that it has two days on which it's celebrated, May 15th and August 4th.
The top 10 most popular chocolate chip cookie brands, according to Eat This, Not That! are:
Nabisco Chips Ahoy Original Chocolate Chip

Famous Amos Chocolate Chip

Entenmann's Milk Chocolate Chip Cookies

Keebler Chips Deluxe Original

Grandma's Chocolate Chip Cookies

Fields Semi-Sweet Chocolate Chip

Pepperidge Farm Montauk Milk Chocolate Chunk Cookie

Enjoy Life Chocolate Chip Crunchy Cookies

Glutino Gluten-Free Chocolate Chip Cookies

Fiber One Soft Baked Chocolate Chunk Cookie
Origin
Chocolate chip cookies were invented by accident in 1937 by Ruth Wakefield of the Toll House Inn. Wakefield was preparing food for her guests when she decided to add Nestlé chocolate bar pieces to her cookie batter. Rather than melting and making solid chocolate cookies, the pieces remained and these cookies were born. Wakefield originally called it the "Toll House Crunch Cookie" and it became so popular that she repeated the recipe many times over. The recipe would later appear in newspapers, radio programs, and Toll House's Tried and True cookbook in 1938. 
Nestlé's sales soared as this cookie became more popular, leading them to make a deal with Wakefield in 1939. In exchange for her recipe and the Toll House name, Ruth Wakefield was given a lifetime supply of chocolate. Shortly after, Nestlé introduced their chocolate morsels which were ideal for making this. They also began printing the original cookie recipe on the bag of these chocolate morsels. While the Toll House Inn burned down in 1989, the legacy of the world-famous recipe created there lives on.
Nutrition
Chocolate chip cookies are a delicious treat that should be enjoyed in moderation. One Nestlé Toll House Cookie can contain: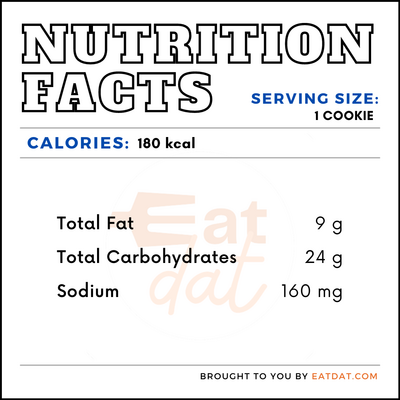 These cookies do contain a bit of vitamin A and iron, but those percentages are not enough to outweigh the sugars and fats.
Commercial production
Today, these cookies are commercially produced by many different companies, but most of them follow the same process. White sugar, brown sugar, and butter are placed into an industrial-sized mixer to evenly disperse the ingredients. After that, chocolate chips, flour, salt, vanilla extract, and eggs go into the mixer and to be blended. The cookie dough is later placed into a machine that molds it into even shapes and sends them to the freezer. These cookies exit the freezer to be inspected then are packaged and shipped off to restaurants or supermarkets.
Uses
Chocolate chip cookies can be chewy, crunchy, gooey, but one thing they should never be is stale. To keep your cookies in their tastiest form, you need to store them properly. If they're already baked you have two options for optimal storage. 
The first storage method is for care packages and uses a tin, parchment paper, and flour tortillas to layer cookies. Inside the tin, these layers protect the cookies and the moisture of the tortillas keeps them from drying out. Should the cookies be for personal consumption, you can place them in a zip lock bag with a slice of bread. The bread will keep the cookies from going stale and the bag will keep any air out.
Recipes
This sweet cookie is an important part of American dessert history. Here are a few popular recipes.
FDA Regulation
The Food & Drug Administration doesn't have any regulations relating to the cookies directly but does reference its ingredients. According to their recent regulation, cacao products such as sweet chocolate must comply with specified percentages and weights for ingredients. The FDA also requires that companies honestly label and declare ingredients for these products. Last year, the FDA recalled some chocolate chip cookies dough products due to allergen health risks related to undeclared ingredients.
References
Michaud, Jon. "Sweet Morsels: A History of the Chocolate-Chip Cookie." Newyorker.com, The New Yorker, 13 Dec. 2013, www.newyorker.com/culture/culture-desk/sweet-morsels-a-history-of-the-chocolate-chip-cookie.
Krake, Kate. "The Chocolate Chip Cookie Was Invented By Accident." Business Insider, Business Insider, 16 Mar. 2013, www.businessinsider.com/the-chocolate-chip-cookie-was-invented-by-accident-2013-3?IR=T.
Roth, Jeremy, and Jamie K. White. "Chocolate Chip Cookie Day and the Accidental Origin of This American Staple." CNN, Cable News Network, 4 Aug. 2019, edition.cnn.com/2019/08/04/us/chocolate-chip-cookie-history-trnd/index.html.
"CFR – Code of Federal Regulations Title 21." Accessdata.fda.gov, U.S. Food & Drug Administration, 1 Apr. 2019, www.accessdata.fda.gov/scripts/cdrh/cfdocs/cfcfr/CFRSearch.cfm?fr=163.123.