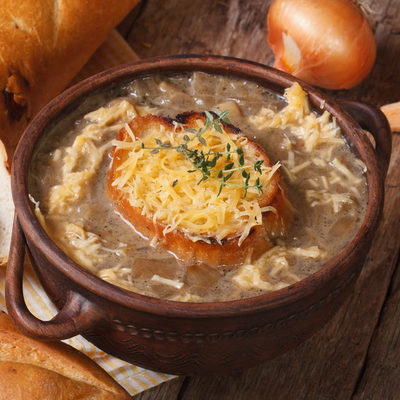 French Onion Soup
---
What is French Onion Soup?
As the name suggests, French onion soup is a soup made of onions and served with croutons or cheese on top of a piece of bread, making it a one-pot dish. The dish may be prepared with different types of liquids and thickening agents, including:
The original version uses beef stock, though other versions are common today. The cheese used is usually Gruyere. 
Origin of French onion soup
Onion soup has been popular since centuries in Europe. There is evidence to suggest that ancient Greeks and Romans ate onion soup. Though onion soup had been a staple of the poor since ages as onions were cheap and aplenty, the original onion soup included ginger and saffron, spices that the lower classes were unlikely to have used. Beef broth and wine were used to improve the flavour of the broth. The French version has been around at least since the 14th century. Served with bread pieces or croutons, it most likely originated in Lyon. There are many legends surrounding its origin, but these are probably just that – legends. 
Nutrition
One cup (254 g) of french onion soup can contain: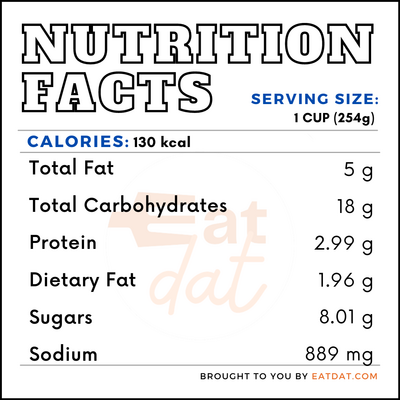 Though it might appear to be just onions in water, this soup is full of nutrition. First, the onions provide anti-inflammatory enzymes to the body. Onions also provide vitamins, iron, folate, and potassium. The onions also have anticarcinogenic properties, antiplatelet activity, antithrombotic activity, antiasthmatic and antibiotic effects. If you are using chicken or beef stock, this will provide protein. Making the broth from beef bones will also provide collagen, which is good for skin and joint health. The cheese provides healthy fats. Overall, it is a healthy balanced meal in itself, though it is often eaten as a starter.
French onion soup recipes
This dish is fairly simple and standard. It can, however, be made with minor variations. Here are a couple of onion soup recipes.
FDA regulations
Onion falls under the umbrella term of raw agricultural commodity. Onion is also classified as a spice. It regulates the growing of fresh vegetables, including onions. The FDA classifies onions as being among the most common vegetables consumed raw. In addition, the FDA also regulates all aspects of cheese production, including the Gruyere often used in making this dish. Gruyere must be cheese that is at least 90 days old, contain small holes, and have a mild flavor, and have 45 percent solid milkfat content at least. The USDA regulates the beef and other meat broth used in the dish. Any beef broth must contain at least 60% meat.
References
Le Parisien, Dégustation : la soupe à l'oignon, bonne à en pleurer !
https://www.leparisien.fr/week-end/degustation-la-soupe-a-l-oignon-bonne-a-en-pleurer-21-01-2015-4466103.php
May Simpkin, Healthy French Onion Soup
https://maysimpkin.com/healthy-french-onion-soup/
Griffiths, Gareth et al. "Onions–a global benefit to health." Phytotherapy research : PTR vol. 16,7 (2002): 603-15. doi:10.1002/ptr.1222
https://pubmed.ncbi.nlm.nih.gov/12410539/