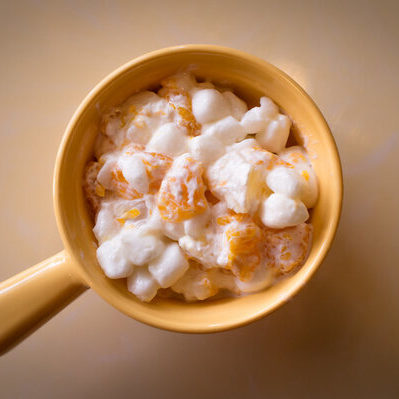 Frog Eye Salad
---
What is Frog Eye Salad?
Frog eye salad is a sweet pasta salad of American origin. It is made with pasta mixed with whipped cream and pineapple custard. Also, fruits like mandarins, pineapples, or oranges are added to the dish. Other sweet items like marshmallows and jelly beans may be used as toppings.
The salad uses acini di pepe pasta, which is about the size of a pepper and is purported to look like frog's eyes, and hence the name.

This salad is a specialty of Mormon cooking and is usually made around Thanksgiving in the American states of Idaho and Utah.
Some traditional Mormon dishes include:
Pretzel Jello Salad

Hawaiian Haystacks

Funeral Potatoes

Frog Eye Salad

Zucchini Bread

Mint Brownies

Root Beer 
Origin of frog eye salad
This salad originated in the United States. It is believed that this dish came from the kitchens of Mormon households. The recipe may have originated from Creamette Acini di Pepe pasta, which had a similar recipe printed at the back of its box in the19 60s. This dish is often served during Thanksgiving meals in Mormon homes. It is considered as a dessert and paired with mashed potatoes, roasted vegetables, Brussel sprouts, or sweet potato casserole.
Nutrition
Nutritional profile for this salad (1 serving):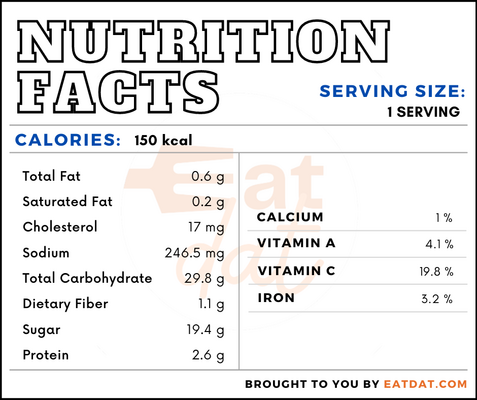 This salad is rich in micronutrients such as potassium, manganese, and vitamin C. Additionally, it has vitamin A, iron, and selenium in decent quantities. However, it is high in sodium and sugar. Therefore, it is best to consume this dish in moderation and in combination with diet and exercise.
Commercial preparation
This sweet salad requires acini di pepe pasta, which is first prepared by boiling in hot water until it is tender and drained. While the pasta is cooling, the custard is made by whisking pineapple juice and egg with flour paste, sugar, and salt, until it thickens. Then, the custard and the pasta are mixed and left to chill in the refrigerator. Finally, the dish is topped off with whipped cream and fruits. If desired, coconut, marshmallows, and jellybeans may be used as a garnish.
Frog eye salad recipes
This salad is a traditional recipe, but there are some variations. Here are some recipes to try:
FDA regulations
All pasta products fall under macaroni, which is defined as food prepared by drying formed units of dough made from semolina, durum flour, farina, or flour. The FDA defines whipped cream as the product made by whipping heavy cream. Fruits such as orange, pineapple, and mandarins are covered under raw agricultural commodities and are strictly regulated by the FDA.
References
Elisabeth Sherman, Frog eye salad: a classic Western Thanksgiving dish explained, Matador Network, https://matadornetwork.com/read/frog-eye-salad-explained/
Rosalynde Welch, Mastering the art of Mormon cooking, Times and Seasons, https://www.timesandseasons.org/harchive/2010/03/mastering-the-art-of-mormon-cooking/