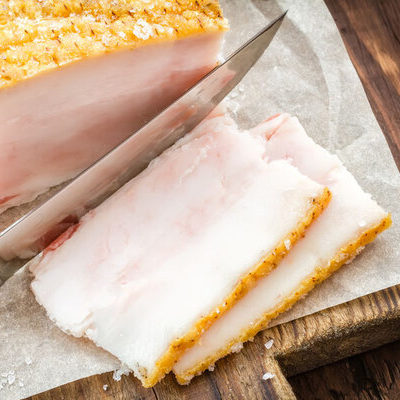 Lard
---
What is Lard?
Lard is the fat obtained from a pig's fat tissue, usually taken from the back and kidneys. It is separated from the pig by steaming, boiling, or using dry heat in a process called rendering, which separates the fat tissue from the skin and other waste and makes it into an edible product. This has a dull white color as well as a thick consistency and is commonly a byproduct of bacon. It is used for frying and baking, and imparts a strong pork flavor to dishes.
Not surprisingly, it is also often used as a butter substitute.

Other similar types of animal fat include tallow from cattle and sheep.
The most popular lard brands on the market are:
Bacon Up

South Chicago Packing

Armour

Essential Depot

Fatworks

Renderings

Proper Foods

More than Gourmet

Cornhusker

Tenderflake

US Dreams
Origin of lard
For centuries, frying was done with different types of fats obtained from animals and plants available locally. Lard was popular in different parts of Europe and is the traditional choice of fat in many regional European cultures. It was an important part of American cuisine, as well. This fat was made at home until the middle of the 19th century, when this production became a side industry of meat processing. Gradually, it became less popular in the middle of the 20th century due to health concerns related to its high saturated fat content. It also became a taboo in restaurants in cities with more cosmopolitan populations because of dietary restrictions of diverse communities.
Nutrition
Lard is high in fatty acids and saturated fats. Excess consumption of it may lead to weight gain, obesity, and insulin resistance. This may also  lead to an increase in oxidative stress. However, when consumed in moderation, it may have benefits because it contains vitamins and minerals such as choline, vitamin E, zinc, and selenium. Not to mention, it is one of the best sources of vitamin D. 
One cup (205g) of Lard contains: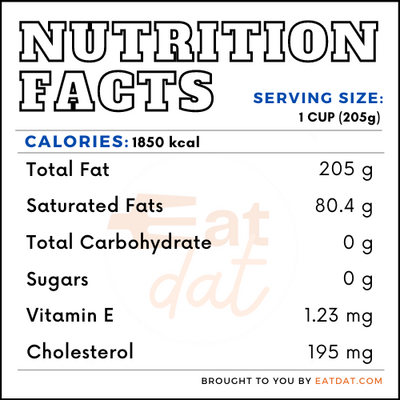 Commercial production
China has the highest consumption of this food in the world, accounting for around 40 percent of the world consumption. It is followed by Germany and Brazil. Experts agree that the best lard comes from the fatty tissues around the kidneys and loins of the pig. It may also be made from the back of the pig. A lower quality type of this food is also made from the fat around the animal's digestive organs. Commercial lard is a mixture of good and bad quality fat from the pig. 
It must be rendered soon after the pig is butchered. First, the fat is ground to release the oil. Then, it is put into water, which is set on a slow flame until it is cooked. Next, this fat is drained and the impurities skimmed off the surface. This is known as wet rendering. The dry rendering procedure involves heating the fat without water until it transforms into an edible product. Commercially produced products is also hydrogenated to improve shelf life. 
It can be stored at room temperature for up to a year in cool temperatures. Storing it in the fridge can extend its shelf life. It may also be frozen and stored, which will extend its shelf life even further.
Lard recipes
This has a variety of uses in cooking. It is frequently used for frying food, such as chicken and potatoes. Also, it is commonly used in baking for better texture and as a shortener. It may even be just used as a dip or a spread. Here are a few recipes:
FDA regulations
Lard is classified by the FDA under substances generally recognized as safe. Depending on the process used to make it, the USDA also sets standards for lard. 
References
How to Render Lard Commercially, Meats and Sausages, www.meatsandsausages.com/drying-preservation/lard/rendering-commercial. 
"What Is Lard? More About the Science of Fats." Food Crumbles, Mediavine Food, 18 Apr. 2020, foodcrumbles.com/lard-fat-science/. 
Kubant, R et al. "A comparison of effects of lard and hydrogenated vegetable shortening on the development of high-fat diet-induced obesity in rats." Nutrition & diabetes vol. 5,12 e188. 14 Dec. 2015, doi:10.1038/nutd.2015.40, https://www.ncbi.nlm.nih.gov/pmc/articles/PMC4735054/ 
Viggiano, Emanuela et al. "Effects of an High-Fat Diet Enriched in Lard or in Fish Oil on the Hypothalamic Amp-Activated Protein Kinase and Inflammatory Mediators." Frontiers in cellular neuroscience vol. 10 150. 9 Jun. 2016, doi:10.3389/fncel.2016.00150, https://www.ncbi.nlm.nih.gov/pmc/articles/PMC4899473/