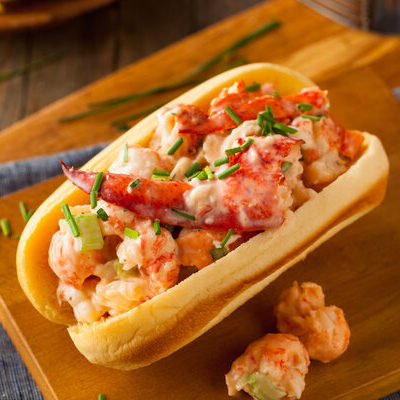 Lobster Rolls
---
What are Lobster Rolls?
A lobster roll is a sandwich made of lobster meat rolled into a hot dog-style bun. Additionally, it may contain butter, salt, lemon juice, and black pepper. A popular condiment for accompanying this food is mayonnaise.
Also, it is generally available at seafood restaurants in coaster states where lobster fishing is predominant.

Usually, the lobster meat is served cold.
The 3 main types of lobster roll  are:
Classic

Maine roll 

Connecticut roll
Origin of lobster rolls
This sandwhich dates back to 1929 in a restaurant named Perry's in Milford, Connecticut. However, the origin of the lobster roll lies in New England's states of Vermont, Maine, New Hampshire, Massachusetts, Connecticut, and Rhode Island. In the US, lobster rolls are primarily associated with the state of Maine. In Maine, lobster rolls are served on a New England-style hot dog bun, splinted on the top instead of the side, to leave the sides for grilling. 
Lobster rolls are a popular seasonal meal, particularly among tourists throughout the Maritime Provinces in Canada. Also, this food may appear on hamburger buns, baguettes, or other bread rolls and even in pita pockets. The traditional side orders are potato chips and dill pickles. McDonald's restaurants in Canadian provinces, such as Nova Scotia and Ontario, as well as New England, offer lobster rolls as a seasonal item in the summer. 
Function
Essentially, the lobster roll is like a chicken or tuna salad sandwich. It is similar to a hot dog in that it comes in a bun and is customizable. This food is a popular appetizer, especially for tourists in states on the East Coast.
Nutrition
An 8 ounce serving of this food contains: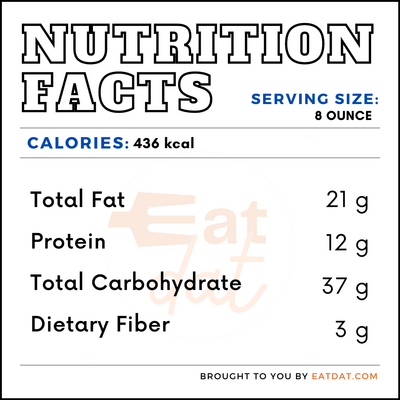 Lobster offers health benefits, such as combatting thyroid disease, preventing anemia, and boosting mental health. However, when served in a roll this food becomes high in calories and fat. For a healthier version of this dish, you can use fat-free mayonnaise or a butter substitute or skip the butter altogether. Additionally, this roll is high in sodium which can lead to clogged arteries, high blood pressure, stroke or heart attack. It is recommended to consume this dish in moderation as part of a healthy diet alongside an active lifestyle.
Commercial production
The large-scale production of lobster roll begins by boiling water mixed with salt. Then, fresh lobsters are placed in the water and covered to cook for some time. Next, the lobsters are taken out and allowed to cool, after which the tail and the claw meat are cut out. After that, the meat may further be cut into fractions. Mayonnaise is spread on the meat and mixed with lemon juice, salt, pepper, and chives. Then, the mixture is stirred until the seasonings combine with the meat. Finally, the roll gets a dash of mayonnaise and then gets packed in a split top hot dog buns
Application
To make a lobster roll at home, start by boiling lobsters and removing the meat. Then, place cubes of lobster meat in a bowl along with mayonnaise, lemon juice, chives, salt, and pepper. Next, gently mix the lobster with the seasonings until it's well combined. After that, spread butter on the outside of split-top hot dog buns, and then toast the buns in a pan on the stove. Finally, place a lettuce leaf into each bun, then add the lobster mixture on top. If desired, add a sprinkle of chives.
Lobster roll recipes
This East Coast classic has many variations. Here are some popular recipes:
FDA regulations
The Food & Drug Administration regulates seafood, including fish and shellfish, to ensure that it is sanitary, wholesome, and accurately labeled. The organization also cautions consumers about paralytic shellfish poisoning, which can happen with some types of lobster. Additionally, the FDA requires that every seafood processor perform a hazard analysis and must have and implement a written HACCP Plan whenever a hazard analysis reveals a food safety hazard that is reasonably likely to occur.
References
College, Michaela Gillis Boston. "What Is a Lobster Roll? A Sandwich East Coast Natives Love." Spoon University, 25 July 2018, https://spoonuniversity.com/lifestyle/what-is-a-lobster-roll 
"The History of the Lobster Roll." Made In Cookware, https://madeincookware.com/blogs/beyond-the-burner/the-history-of-the-lobster-roll 
Kane, Ashley. "A Brief History of the Lobster Roll." Culture Trip, The Culture Trip, 26 Jan. 2017, https://theculturetrip.com/north-america/usa/massachusetts/articles/a-brief-history-of-the-lobster-roll/