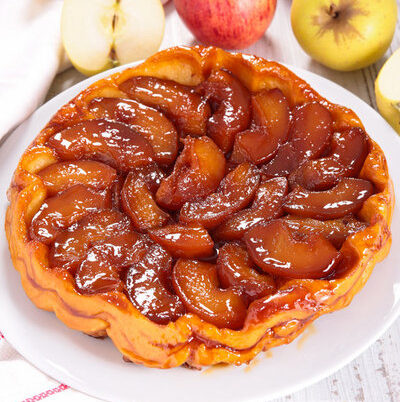 Tarte Tatin
---
What is Tarte Tatin?
Tarte Tatin is a French fruit tart named after the Tatin sisters. It is a type of pastry filled with caramelized apples. Though apples are the traditional and the most popular filling, other fruits such as pears, plums, cranberries, strawberries, apricots, peaches, oranges, and figs may be used for variety.
The dessert must be made of puff or shortcrust pastry for best results.

Additionally, savory versions of this tart may also be prepared with vegetables.
The best varieties of apples for making this fruit tart are:
Braeburn

Calville

Fuji

Gala

Golden Delicious

Granny Smith

Honeycrisp

Reine des Reinettes
Origin
The origin of this fruit tarte lies in France, in the Loire Valley near Paris in the 1880s. Its creation is attributed to Stéphanie Tatin, who ran the Hôtel Tatin along with her younger sister Caroline. Stéphanie was in charge of the cooking, and had a reputation for being a good cook but scatterbrained. During the hunting season, while preparing apple tart, she forgot about the apples which got caramelized in the pan. Instead of throwing it all out, she salvaged it by inventing the now famous tarte Tatin. The first written mention of this dish appeared in the Bulletin de la Société Géographique du Cher in 1903.
Nutrition
A single serving of this tart has around 355.7 calories. The nutritional values are: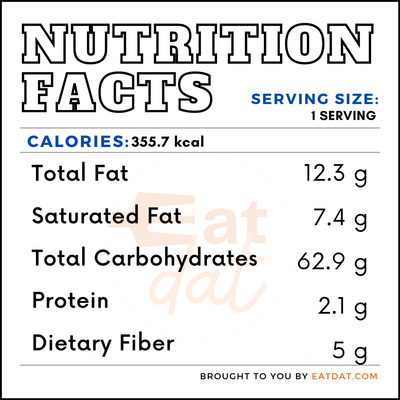 In addition, apple tart may have vitamins A, B1 (thiamine), B2 (riboflavin), B3 (niacin), B6, B9 (folate), C, D, and E, and minerals such as iron, manganese, and selenium. This fruit tart contains real, unprocessed apples that are baked into a crust. Furthermore, apples contain a variety of phytochemicals, which are linked to reduced risk of some cancers, cardiovascular disease, asthma, and diabetes. Also, they contain potassium, vitamin C, calcium, phosphorus, magnesium, vitamin K, and fiber. However, this dish is high in calories and simple carbohydrates and hence, must be eaten in moderation. 
Commercial production
This tart is often not mass-produced. In bakeries, restaurants, and cafés, it is prepared fresh and served hot or heated. To prepare this dessert, the apples are cut and put in with water, butter, and sugar in a saucepan and heated until caramelized. Then, these apples are arranged in concentric circles in a cake tin, the caramel is poured on top and the puff pastry is laid over it all. The tart is baked and cooled, then inverted into a plate. This dish pairs well with ice cream. 
Tarte tatin recipes
This fruit tart can suit all tastes, offering both sweet and savory renditions. Here are some popular recipes:
FDA regulations
The FDA describes all fresh fruits, including apples, as raw agricultural commodities and strictly regulates all aspects of their growing, harvesting, packing, and storage. The FDA defines flour as food prepared by grinding and bolting cleaned wheat and regulates its processing and packaging. The USDA sets out guidelines for fruit pie fillings, including apple, for processing, manufacturing, and packaging.
References
Felicity Cloake, Howard Shooter, Deconstructing tarte tatin, the classic French dessert, National Geographic Traveller Food, Issue 3
https://www.nationalgeographic.co.uk/travel/2018/11/tarte-tatin-deconstructing-classic-french-dessert 
Boyer, Jeanelle, and Rui Hai Liu. "Apple phytochemicals and their health benefits." Nutrition journal vol. 3 5. 12 May. 2004, doi:10.1186/1475-2891-3-5
https://pubmed.ncbi.nlm.nih.gov/15140261/