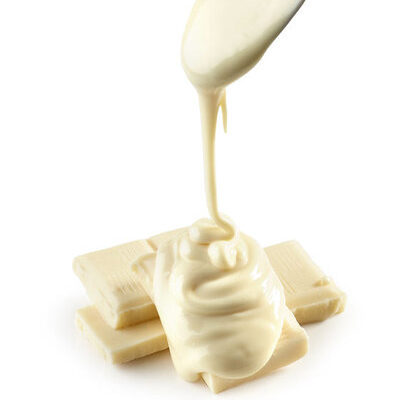 White Chocolate
---
What is White Chocolate?
White chocolate is food made from cocoa butter, milk products, sugar, vanilla, and lecithin (a fatty substance). Technically, this food is not chocolate because it doesn't contain chocolate solids. These chocolate solids or nibs are found in other types of chocolate, like dark chocolate and milk chocolate.
If the white chocolate is good quality, it should have a slightly yellow or ivory color because cocoa butter is naturally yellow.

White chocolate also contains a small amount of caffeine compared to regular chocolate.
The top 10 most popular brands  are:
Milka 

Twix 

Schogetten 

Kit Kat

M&M's 

Nestle Tollhouse

Scott's

Green & Black's

Philadelphia

Amedei Toscano 
Origin of white chocolate
Nestle, a Swiss company in Europe, produced the first white chocolate bar in 1930. By 1936, the company began to make this chocolate on a commercial scale. Legend has it that this chocolate's production was a way to use up milk powder produced for Word World I that was no longer needed. This chocolate's ideal taste is like good, fresh milk, and it should not be too sweet. 
Function
This food can be used for several things in the kitchen. Cooks add this chocolate to baked goods like cookies and other types of sweet treats. This ingredient can even add texture to cakes due to its fat content. Also, it is used for decoration because it creates contrast compared to dark chocolate.
Nutrition
1 bar (3 oz) (85g) contains: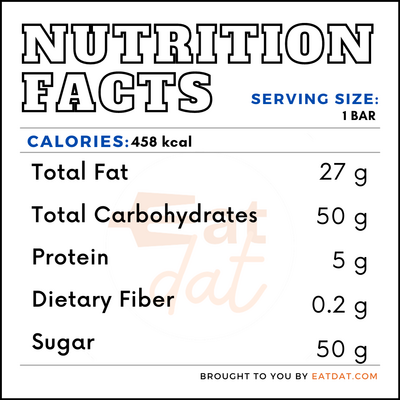 This chocolate contains milk products which can offer some health benefits. Milk contains vital nutrients like B vitamins, vitamin D, and calcium. However, it is best not to consume this dessert in excess quantities. The presence of sugar in this food can cause weight gain and increase your risk of type 2 diabetes. Also, this type of chocolate is not as healthy as dark chocolate, which contains a higher amount of flavanols.
Commercial production
The production of this chocolate begins with the harvesting of the pods of cacao beans. The cacao beans are further processed into cocoa solids, chocolate liquor, and cocoa butter. The primary production process involves mixing cocoa butter with milk, sugar, and other flavorings.
The global market value for this product hits $17.9 billion in 2018, developing at a growth rate of 1.1% between 2011 and 2018. This market is expected to hit a value of $18.5 billion by 2024. The top four chocolate producing countries are the US, Germany, Switzerland, and Belgium. 
Application
The best way to store this chocolate is to keep it in a cool and dry place. It's critical to keep it away from excessive humidity and heat. The optimal temperature for chocolate storage is 65-68°F. Light and oxygen can easily cause this food to degrade due to its low cacao content. Therefore, wrap the chocolate up and keep it in an airtight container.
White Chocolate recipes
This lends itself to various foods. Here are some popular recipes to try:
FDA regulation
The Food and Drug Administration has a standard of identity for this dessert. This chocolate is a solid or semi-plastic food made by mixing and grinding cacao fat with one or more specified dairy ingredients and nutritive carbohydrate sweeteners. The FDA regulates the production, processing, and labeling of this type of chocolate. 
White chocolate should be void of coloring material. This food contains not less than 20% by weight of cacao fat and not less than 3.5% by weight of milk fat. Other optional safe ingredients that can be used in the production of this food include: emulsifying agents, natural and artificial flavoring agents, as well as antioxidants.
References
"White Chocolate." Bon Appétit, Bon Appétit, 30 May 2017, www.bonappetit.com/test-kitchen/tools-test-kitchen/article/white-chocolate. 
Sethi, Simran. "For Those Who Think White Chocolate Isn't 'Real' Chocolate, Have We Got Bars for You." The Washington Post, WP Company, 27 Nov. 2017, www.washingtonpost.com/lifestyle/food/for-those-who-think-white-chocolate-isnt-real-chocolate-have-we-got-bars-for-you/2017/11/24/24fb1ee8-cbc9-11e7-b0cf-7689a9f2d84e_story.html. 
"How to Store Chocolate: Tips for Keeping It Fresh." www.candyclub.com, Candy club blog, 27 Mar. 2019, www.candyclub.com/blog/how-to-store-chocolate/. 
"CFR – Code of Federal Regulations Title 21." 1 Apr. 2019, accessdata.fda.gov, US Food & Drug Administration, www.accessdata.fda.gov/scripts/cdrh/cfdocs/cfcfr/CFRSearch.cfm?fr=163.124.