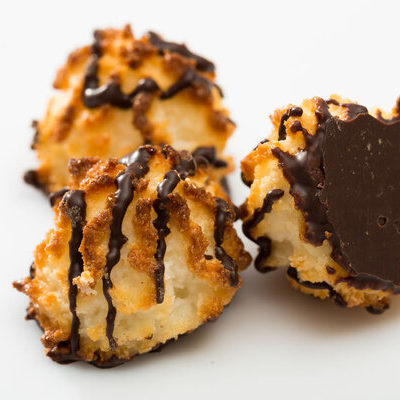 Macaroon
---
What is a Macaroon?
Macaroons are small cookies made from ground almonds, coconut, nuts, sugar, flavorings including vanilla, honey, and spices, as well as a chocolate coating. Often, these snacks are baked on edible rice paper positioned on a baking tray. Many people confuse the 'macaroon' with the 'macaron,' but they are different.
Macaron refers to a sandwiched cookie invented in France in the 20th century, whereas a macaroon is a macaron without all the fillings.
There are many varieties of this cookie.
Some regional varieties of macaroons include:
Ricciarelli (Italy)

Besitos de Coco (Puerto Rico)

Carajito (Spain)

Acıbadem kurabiyesi (Turkey)
Origin of macaroons
This sweet treat can be traced back to a monastery in Italy in the 9th century. In the 1500s, macaroons found their way to France, where they were popularized. Italian Jews were one of the first to adopt this cookie for their 8-day observation of the Passover since it has no leavening or flour. Europeans took it up and started making the popular coconut variation of this food. These days, there are many varieties of this cookie being enjoyed around the world.
Nutrition
 In a 25g serving of macaroons, there are: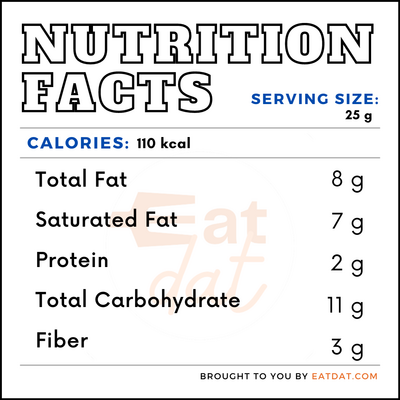 This food is an excellent source of energy and is highly nutritious due to its egg whites and nuts. Some health benefits of this snack are that it supports muscle and tissue healing and repair, as well as contributes to the restoration of sore muscles after strenuous workouts. Eggs are an excellent source of albumin, a high-biological value protein crucial in the blood. Another common ingredient, almond, is very rich in Vitamin E, which is a requirement for healthy skin. Coconut water, flesh, cream, and milk used to make coconut macaroons also provide health benefits. 
Not to mention, coconut's nutrients are not stored as body fat like most other dietary fats. The coconut oil present in this food can help improve colon health and promote colon cleansing. However, there are precautions to take when eating this food. Eating a large amount of this food may result in a calorie and sugar overload (blood sugar spike). It can also cause heart disease, diabetes, obesity, and weight gain, if consumed excessively and over extended periods.
Commercial Production
The large-scale production of macaroons has not really taken off. Still, the process of preparing them is quite simple. Generally, the first step is foaming egg whites and sugar, then slowly adding in the other ingredients. After that, the batter is deposited in small circles on a pan and put into the oven to bake. The USA confectionery industry is estimated to grow from $36.4 billion to $52.5 billion between 2016 to 2025. 
Application
Make coconut macaroons with following the steps:
First, preheat the oven and line the cookie sheets with parchment paper.

Next, toss in the flaked coconut and chopped almonds along with some sugar.

Then, spread the blend on a baking sheet and toast in your oven for 15 minutes

After that, beat egg whites and sugar. Add salt and continue beating with an electric mixer.

Fold the sugared coconut and almond mixture and shape the snack with two soup spoons. Bake for 30-40 minutes and then let it dry out for at least 30 minutes.

Finally, let the snack cool before you peel off the parchment paper.
This snack can be stored in an airtight container for up to a week.
Macaroon recipes
Here are recipes that highlight the richness and versatility of this food:
FDA Regulation
The Food and Drug Administration has no regulations concerning macaroons. However, the agency does regulate production methods. The FDA has guidelines for acceptable manufacturing practices, hazard analysis and risk-based prevention control. If any eateries do not comply, they'll receive a warning letter based on the unsatisfactory methods they use in producing this food. The FDA also has guidelines for egg safety that apply to all producers and manufacturers.
References
"Tarla Dalal." Indian Recipes, 6 Jan. 2018, www.tarladalal.com/glossary-macaroon-677i
CFR – Code of Federal Regulations Title 21." Accessdata.fda.gov, U.S Food & Drug Administration, 1 Apr. 2019, https://www.accessdata.fda.gov/scripts/cdrh/cfdocs/cfcfr/CFRSearch.cfm?CFRPart=117&showFR=1&subpartNode=21:2.0.1.1.16.3
"MACAROON: HISTORY & FACTS: SweeTooth Design Company." Sweetooth, www.sweetoothdesign.com/cookie-macaroon
Pister, Judy. "A Brief History of Macaroons." COR, www.cor.ca/view/442/a_brief_history_of_macaroons.html
Yoko Murakami, "The Effect of Color Composition of Macaroons on the Food Preferences of University Students," January 2012., https://www.researchgate.net/publication/316814796_The_Effect_of_Color_Composition_of_Macaroons_on_the_Food_Preferences_of_University_Students